Topah Spoonhunter felt victory slip through his fingers Saturday when he bobbled an uncontested pass out of bounds in the waning seconds.
Nineteen seconds later, he felt total relief.
After his initial blunder, the Haskell Indian Nations University men's basketball team - leading by one at the time - stopped visiting Newman from getting the go-ahead basket, rebounded a missed shot and ran out the clock with a number of perfect keep-away passes, celebrating a 62-61 Senior Day victory with a ceremony at midcourt.
No one enjoyed it more than Spoonhunter, a senior whose last memories of playing at home will be scoring 14 points and signing autographs instead of costing his team the game.
"The ball just slipped out of my hands. I felt terrible," Spoonhunter said. "But when we played good defense and got the stop on the other end : man, that felt good. I don't think I've felt this good in a long time."
HINU coach Jamie Morrison shook his head when he watched the ball roll out of bounds, because to him it looked as if Spoonhunter became overanxious and tried to score a layup rather than simply run out the clock.
Spoonhunter said he wasn't trying to score, but agreed he was indecisive on the play.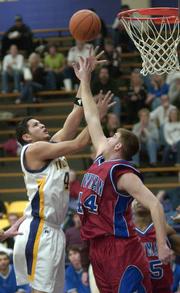 Regardless, both parties were confident the Fightin' Indians would get a defensive stop and win the game after the turnover.
"We never do anything easy. It was really wild and really unpredictable," Morrison said. "I just felt relief for (Spoonhunter) more than anything. I wouldn't want him to carry that around. One play never makes a game, but that would have been a big play at the end."
With the victory, the Fightin' Indians moved to 6-8 in the MCAC and kept alive an outside shot of making the NAIA playoffs. But they need a sweep next weekend to have any chance.
"We're still playing for something," Morrison said. "Now, we just need to take it one game at a time. We'll be ready, and I think we'll get it done."
Haskell women 75, Newman 65
HINU women's basketball coach Phil Homeratha knew the importance of Saturday's game.
It was Senior Day for the Indians, his team never had beaten the Jets, and Haskell desperately needed a victory to stay in the NAIA playoff chase.
So when his Indians pulled off a 75-65 victory, you could forgive him for being overly excited.
"It was a landmark game for us :. What a way to send out the seniors," Homeratha said.
In HINU's previous game, the Indians lost a winnable contest that Homeratha blamed on a lack of effort from his team.
He was afraid that loss would cost Haskell any chance it had at a top-four finish in the MCAC conference, which is required to become eligible for postseason play.
But senior Samantha Pete made sure the door remained open.
In her final home game, she scored 28 points and seemed to hit a three-pointer every time Newman made a run. She sank five three-point shots in the second half alone.
"I wanted to go out big on my last home game," Pete said. "It was a lot of fun to play well in front of these people who support me."
Haskell now sits at 13-12 on the year and 6-6 in conference play. The Indians will end the year with two road games - at College of the Ozarks and Oklahoma Wesleyan - which ultimately will decide whether they go to the playoffs.
Copyright 2018 The Lawrence Journal-World. All rights reserved. This material may not be published, broadcast, rewritten or redistributed. We strive to uphold our values for every story published.