Tired of the rat race? Want to get away for a while, do something meaningful?
Betty Baron can help. She's the Peace Corps coordinator at Kansas University.
"The Peace Corps is for two kinds of people: those who know what they want to do with the rest of their lives and those who don't," she said, laughing.
Baron, who spent two years in Ethiopia in the mid-1960s, is coordinating a Feb. 28 forum she hopes will call attention to the Peace Corps' potential for changing lives and commemorate the program's 45th anniversary.
"I'm going to try to get speakers who've been stationed in Africa, Latin America and either the Pacific islands or the Caribbean," she said. "And I'll try to get someone who ended up living in an apartment - say, in Eastern Europe - with running water and someone who lived in a hut and got water from the river."
She shouldn't have much trouble finding Peace Corps alumni in and around Lawrence. According to the latest count, 815 KU alumni have served since the program's start in 1960.
Lawrence attorney Shelley Bock spent two years, 1974-76, in tiny Filadelfia, Costa Rica.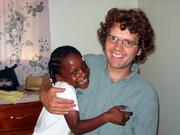 "I lived in a divided house with a family that did all the cooking," Bock said. "They were relatively well off, so I was fortunate enough to have a concrete floor."
While in Costa Rica, Bock served as an assistant agricultural agent.
"I promoted the proper use of chemicals so they didn't poison the water system and kill themselves. I'm serious," he said. "I also worked with the banks to get the small-scale farmers to a point of survival."
Thirty years later, Bock's Peace Corps memories are fondly recalled.
"In many ways, those were the best years of my life in terms of thinking outside the box, meeting people and experiencing life," he said. "I really didn't know how good I had it."
Bock's wife, Susan, also served in the Peace Corps in Costa Rica.
"That's where we met," he said.
Study abroad
Today 52 KU alumni are thought to be serving in the Peace Corps. Only 17 major universities have more.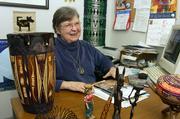 "A lot of that, I think, is because we have such a wonderful Study Abroad program here," Baron said. "Students either study abroad and come back interested in doing more, or if they're unable to go, they hold on to the idea of going abroad."
KU's Office of Study Abroad offers 100 programs in more than 50 countries. Among public universities, it's ranked fourth in the nation in the proportionate number of students studying abroad.
KU graduates Shane McCall, 25, and his wife, Kaelyn, 23, have been in the Peace Corps in Portmore, Jamaica, since September. Both are helping city officials develop information networks.
"Portmore is mainly a bedroom community to Kingston, the capital city," Shane McCall said during a recent telephone interview. "In the last 20 to 30 years, it's gone from zero population to 175,000."
The city, he said, is plagued by the usual problems that accompany rapid, unplanned growth: trash collection, sewage treatment, access to utilities, building codes and code enforcement.
"And things like address," he said. "A lot of the streets don't have names."
Their one-bedroom apartment has running water. Sometimes.
"It usually goes out between 8 a.m. and 4 p.m. because there's not enough water pressure," McCall said.
At first, McCall said, he and Kaelyn were disappointed they'd ended up in an urban setting, working with computers.
"We imagined ourselves in a rural setting," he said, "but we've come to realize that the needs in the urban areas are just as great as those in the rural areas. It's totally opened our eyes."
They have cable, so they're able to watch the Jayhawks on ESPN, and they have access to the Internet, so they read the Journal-World online.
"Sports mostly," McCall said.
One of the couple's biggest adjustments, he said, has come with not having a car.
"We don't have near the freedom of movement here," McCall said. "By that I mean, when the roads get washed out, it's months before they're repaired, so you're forced to go a different way - if there is a different way."
Paid enough
Peace Corps stays are limited to two years, though six-month and one-year extensions are allowed.
Volunteers are paid a wage comparable to the wages paid in whatever country they are in.
"So if you're a school teacher in Namibia, you'll be paid whatever a school teacher in Namibia is paid," Baron said. "I've never heard one person say they weren't paid enough. Not one."
Volunteers soon learn to do without.
"One of the intangible benefits of being in Peace Corps is learning what is enough," Baron said.
Copyright 2018 The Lawrence Journal-World. All rights reserved. This material may not be published, broadcast, rewritten or redistributed. We strive to uphold our values for every story published.