Austin, Texas — Seven points in less than 60 seconds. Kenton Paulino didn't even need a minute to turn a tight game into another Big 12 Conference rout for Texas.
The scoring burst by the senior point guard and 21 points and 12 rebounds by center LaMarcus Aldridge sent No. 6 Texas to a 78-59 victory Saturday over Nebraska.
Paulino finished with 19 points, one shy of his career high.
"I call him a silent assassin," Aldridge said. "People always forget about him, but he always comes through for us."
Paulino said defenses usually worried about stopping Aldridge, P.J. Tucker and Daniel Gibson before worrying about him. He's sure to get more attention after going 7-of-8 from the field, including 4-of-5 on three-pointers.
"I get out there and get lost in the game," he said, "and guys find me for open looks."
The Longhorns (21-3 overall, 9-1 Big 12) have won 13 of their last 14 games, winning nine conference games by an average margin of 19 points.
Of their six remaining regular-season opponents, only Kansas University and Oklahoma have winning records in the Big 12, and both come to Austin. Texas hasn't won the conference since 1999, coach Rick Barnes' first season.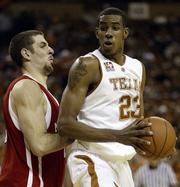 Jamel White scored 12 points for Nebraska (15-8, 5-5). And for one half, it looked like the Cornhuskers could make a game of it. Marcus Perry hit three three-pointers, and the teams traded the lead seven times over the final seven minutes of the first half.
Texas A&M; 46, Oklahoma State 44
College Station, Texas - Joseph Jones sank a jumper with 1.1 seconds left, lifting Texas A&M; over Oklahoma State, which played without coach Eddie Sutton, who was injured in a car accident. Jones scored 15 and grabbed eight rebounds for the Aggies (15-7 overall, 5-6 Big 12), who shot 17-of-42.
JamesOn Curry scored 13 to lead Oklahoma State (13-11, 3-7).
Earlier Saturday, Sutton was released from a hospital in Stillwater, Okla. His son, Sean, coached the Cowboys.
Copyright 2018 The Associated Press. All rights reserved. This material may not be published, broadcast, rewritten or redistributed. We strive to uphold our values for every story published.