Spokane, Wash. — Adam Morrison went to work when No. 5 Gonzaga needed him the most.
Morrison scored 12 of his 34 points in the final three minutes, helping the Bulldogs hold off Stanford, 80-76, on Saturday.
Gonzaga (20-3) extended the nation's longest home winning streak to 36 games and won its 11th in a row overall. The Bulldogs also reached 20 victories for the ninth consecutive season.
Gonzaga led, 67-66, when Morrison made a long three-pointer to begin the three-minute surge in which he outscored the entire Stanford team.
"It was my time to do something, I guess," Morrison said. "When it's clutch time at the end of the game, I know the ball's going to be in my hands."
Stanford (12-9) stayed close during a thrilling second half, but was undone by Gonzaga's strong free-throw shooting.
Chris Hernandez made a three-pointer to cut Gonzaga's lead to 78-76 with 18 seconds left, but Morrison made two free throws. Dan Grunfeld missed Stanford's final shot.
"It felt like an NCAA Tournament game," Gonzaga coach Mark Few said. "It felt like the whole world was focused on us."
J.P. Batista added 24 points and eight rebounds for Gonzaga and held Stanford's Matt Haryasz to 11 points, seven below his average. Hernandez led Stanford with 17 points, while Grunfeld had 16.
No. 2 Duke 96, Maryland 88
College Park, Md. - J.J. Redick scored 35 for the second straight game, leading Duke. Shelden Williams had 26 points and 13 rebounds for the Blue Devils (23-1, 11-0 ACC), who were swept by the Terrapins last season and had lost three of their last four at Maryland.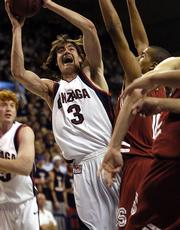 Nik Caner-Medley scored 22 for the Terrapins (15-8, 5-5).
No. 3 Memphis 91, Marshall 81
Huntington, W.Va. - Rodney Carney and Darius Washington each scored 20 for Memphis (22-2, 8-0 C-USA), which overcame an 11-point deficit to win its 11th straight.
No. 4 Villanova 61, DePaul 51
Rosemont, Ill. - Randy Foye scored 23, and Kyle Lowry added 15, leading Villanova (19-2, 9-1 Big East) to its eighth straight victory.
No. 7 Florida 71, LSU 62
Gainesville, Fla. - Joakim Noah and Al Horford each scored 16, and Florida (21-3, 7-3 SEC) snapped a three-game losing streak to the Tigers (16-7, 8-2).
No. 8 George Washington 64, Saint Joseph's 62
Philadelphia - Pops Mensah-Bonsu scored the go-ahead basket with 23 seconds left and finished with 21 points for George Washington (20-1, 10-0 A-10), which is off to the best start in school history.
No. 11 Tennessee 83, Georgia 78
Athens, Ga. - Chris Lofton scored 33 for the Vols (18-3, 9-1 SEC).
Minnesota 69, No. 12 Michigan State 55
Minneapolis - Vince Grier had 15 points and eight rebounds for the Gophers (12-9, 3-7 Big Ten), who have won three of four. Shannon Brown scored 19 for the Spartans (18-6, 6-4).
No. 21 Washington 70, No. 13 UCLA 67
Seattle - Brandon Roy scored 20, 13 on free throws, and blocked a potential game-tying shot before the buzzer for Washington (18-5, 7-5 Pac-10). Alfred Aboya had a career-high 15 points for UCLA (20-5, 10-3).
No. 17 Boston College 67, Clemson 61
Boston - Jared Dudley scored 13 of his 16 points in the second half for Boston College (19-5, 7-4 ACC).
No. 18 Iowa 70, No. 24 Indiana 67
Bloomington, Ind. - Greg Brunner scored 19, and Iowa (19-6, 8-3) snapped Indiana's 13-game Big Ten winning streak at home.
Purdue 84, No. 22 Michigan 70
West Lafayette, Ind. - Reserve freshman Marcus Green scored 18 in the first half as Purdue (9-14, 3-9 Big Ten) handed Michigan (16-6, 6-5) its third straight loss.
Copyright 2018 The Associated Press. All rights reserved. This material may not be published, broadcast, rewritten or redistributed. We strive to uphold our values for every story published.