Tehran, Iran — Iran's hard-line president threatened to revise his policy of working within international atomic frameworks, as diplomats in Europe said the U.N. nuclear watchdog agency had stripped most of its surveillance equipment from Iranian nuclear sites.
The diplomats, who demanded anonymity in exchange for revealing the confidential developments, said the move was part of retaliatory measures announced by Iran that have left the International Atomic Energy Agency with only the most basic means to monitor Iran's nuclear activities.
In Iran, thousands rallied across the nation Saturday to celebrate the anniversary of the Islamic Revolution and show support for Iran's nuclear rights.
State-run television called the nationwide demonstrations "a nuclear referendum" and showed footage of rallies in Iran's major cities.
In a speech before tens of thousands massed in Azadi Square to mark the 27th anniversary of the revolution that brought a Muslim theocracy to power, President Mahmoud Ahmadinejad focused on the building crisis surrounding Iran's disputed nuclear program.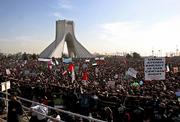 "Until now, we have worked inside the agency (IAEA) and the NPT (Nuclear Nonproliferation Treaty) regulations," he said. "If we see you want to violate the right of the Iranian people by using those regulations (against us), you should know that the Iranian people will revise its policies."
The crowd chanted: "We would fight, we would die, but we will not accept lowliness!" - referring to Iran's refusal to give in to outside pressure.
Ahmadinejad's comments were believed to be a threat to withdraw from the IAEA and NPT. The Iranian leader appeared in part to be responding to Thursday's call by U.N.
Secretary-General Kofi Annan called for Iran to restore a freeze on its nuclear activities and pursue talks to shift its uranium enrichment program to Russia.
Britain, Germany and France have led months of futile talks on behalf of the 25-nation European Union amid suspicions that Iran's civilian nuclear program is aimed at producing nuclear weapons, not electricity as Tehran insists.
Copyright 2018 The Associated Press. All rights reserved. This material may not be published, broadcast, rewritten or redistributed. We strive to uphold our values for every story published.