Tehran, Iran — Iran's hard-line president on Saturday accused the United States and Europe of being "hostages of Zionism" and said they should pay a heavy price for the publication of caricatures of the Prophet Muhammad that have triggered worldwide protests.
Denmark - where the drawings were first published four months ago - warned Danes to leave Indonesia, saying they faced a "significant and imminent danger" from an extremist group and announced it had withdrawn embassy staff from Jakarta, Iran and Syria.
Yemen announced that three chief editors of privately owned Yemeni papers will stand trial for printing the Danish cartoons and have their publishing licenses suspended. The Information Ministry officials said the editors are charged with offending the prophet of Islam and violating religions.
Earlier this month, two Jordanian editors were put on trial for reprinting the Danish caricatures of Muhammad.
Saudi Arabia's top cleric said in a Friday sermon that those responsible for the drawings should be put on trial and punished.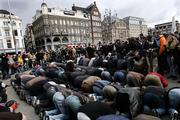 Muslims in several European and Asian countries, meanwhile, kept up their protests, with thousands taking to the streets in London's biggest demonstration over the issue so far.
Last week, demonstrators in tightly controlled Iran attacked the Danish, French and Austrian embassies with stones and firebombs and hit the British mission with rocks.
The drawings were first published in September and recently reprinted in other European publications that said it was an issue of freedom of speech.
Islam widely holds that representations of the prophet are banned for fear they could lead to idolatry.
Copyright 2018 The Associated Press. All rights reserved. This material may not be published, broadcast, rewritten or redistributed. We strive to uphold our values for every story published.