Boulder, Colo. — Colorado players saw Texas Tech at its worst in the first half and expected a better showing from the Red Raiders in the second half.
They got it.
Texas Tech shot 28 percent in the first half, but it took a flurry of free throws at the end for Colorado to hold on to a 66-64 victory Saturday.
"They struggled on offense, that's for sure in the first half, but we never saw any of them hang their heads," said Colorado point guard Marcus Hall, who had 13 points, but missed two free throws with six seconds left to give the Red Raiders a chance to win. "We knew they would come back."
Colorado (16-5 overall, 6-4 Big 12 Conference) wasn't much better, hitting nine of 33 shots in the first period. And it didn't get much better for leading scorer Richard Roby, who struggled for his 17 points on 3-for-11 shooting but was 10-for-11 from the free-throw line in helping Colorado snap a two-game losing streak.
Jarrius Jackson led Texas Tech (12-12, 4-6) with 18 points. Martin Zeno had 17 as the Red Raiders remained winless in five conference road games.
The Red Raiders missed their first eight shots and had four turnovers to start the game before Darryl Dora buried a three-pointer with 14:23 left. By then, Andy Osborn had hit two three-pointers, and the Buffaloes led, 9-3.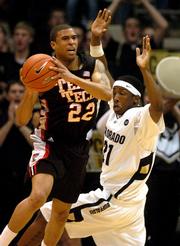 "We had to remind our team not to take anything for granted and that a win wouldn't come easy," Colorado coach Ricardo Patton said. "It was going to be a hard-fought game, and it was going to be a 40-minute contest."
"I am disappointed by the way we started," Texas Tech coach Bob Knight said. "Colorado is such a good team that it's difficult to come back on them."
But they did.
Osborn's three-pointer put Colorado up by six early in the second half, but two baskets off inside moves by Jackson got the Red Raiders as close as 41-39 with 11:35 left. Two unforced turnovers by Colorado led to three-pointers by Zeno and Dora, and Texas Tech took its first lead, 46-45.
Roby broke a 50-50 tie with a three-pointer and hit two free throws with 5:41 remaining to put the Buffaloes ahead 55-50, but Jon Plefka's three-pointer and Zeno's short jumper got the Red Raiders within 57-55 with 3:43 left.
Jackson had eight points the rest of the way, but Colorado countered with nine free throws, including three by Roby.
Copyright 2018 The Associated Press. All rights reserved. This material may not be published, broadcast, rewritten or redistributed. We strive to uphold our values for every story published.