For most of his life, Henry Fitch has done the kind of work that would raise most people's blood pressure.
The retired Kansas University herpetology professor fearlessly hunted garter snakes, copperheads and prairie rattlers for science.
At 96, however, Fitch's daily routine has changed.
"Three years ago I was still pretty active. I've slowed down a lot since then, I'm afraid," said Fitch, who struggles with arthritis and diabetes. "I use a cane to get around, especially in the field. I'm pretty slow and sluggish."
So in addition to the caregiver who stops by nearly every afternoon to help with housework, Fitch's 52-year-old son Chet checks in on him each morning, manages his finances and medication, shops for his groceries and drives him to doctor appointments.
It's a situation that's becoming more and more common. With advances in medicine and the first baby boomers turning 60 this year, folks who are beginning to plan for their own retirements also are taking care of aging parents.
Thirteen million of the nation's baby boomers are caregivers for sick parents and deeply involved in every facet of their care, from diagnosis to treatment, according to a 2005 survey from Campbell-Ewald Health. And 25 percent of boomers live in the same home with their parents.
Without preparation and communication, the arrangement can take a toll on caregivers.
"It's a tremendous drain, and it can jeopardize your marriage, your job, your relationship with your own kids and also your sanity and your own physical health," said Virginia Morris, author of the book "How To Care for Aging Parents." "It's really important that people stop and take care of themselves."
Role reversal
Chet Fitch has been luckier than some. His job as trustee of Grant Township allows the time and flexibility necessary to deal with the sometimes unpredictable responsibilities of caring for his father. And he and his wife, Deanna, live just half a mile from Henry Fitch's home north of Lawrence.
Still, the family has had a few scares.
When they came to pick himup to attend his grandson's graduation, they found he had gone into insulin shock. A glass of orange juice later, and he was fine. When he was recovering from hip replacement surgery in 2003, he started having fainting spells. Chet would come over and find him on the floor.
"As it turned out, his heart wasn't functioning like it should. The pacemaker's really helped that a great deal," Chet says. "I think we all spend time talking about dad's well-being. And then, of course, it's a fine line between independence and being safe."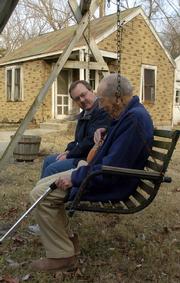 It's common for parents and their caregiver children to butt heads on this issue. For the Fitches, the bone of contention is whether Henry should be driving. (He doesn't.) For other families, opinions about living arrangements cause rifts.
If you've scouted out a new house for your mother because you're worried she'll fall down the stairs and break her hip, but she doesn't want to move, "You can do lots of things to make a house safe," Morris said. "But you can't grab them by the hair caveman style and take them out of the house kicking and screaming.
"No matter what's wrong with them, they're not a child. And treating them like that will only create a greater divide and more resistance and frustration."
Coping mechanisms
Another common challenge: sibling rivalry. Brothers and sisters may disagree on what's best for their parents, or resentment may crop up because one sibling feels like she - and it's often a she - is doing more than others, Morris said.
Lawrence resident Christy Brandt managed to avoid that problem because she communicates openly with her brother and sister - and because her parents planned well.
When her mother's Alzheimer's disease became too much for her father, John Brandt, to handle on his own, he called and announced they'd be moving from Florida to live with Christy and her husband, Gary Brown, in Lawrence.
The elder Brandt paid for an addition to Christy's house and to the home of her sister, who lives in Oregon. He and his wife split their time between the two locales. He also made financial arrangements so his children wouldn't be burdened.
Still, caring for her ailing mother was an emotionally taxing experience for the now 57-year-old Christy Brandt. She got through it, she said, with the help of a local Alzheimer's support group, hospice care, friends and a daily routine she and her husband have performed for 30 years.
"We take an hour walk every day. We walk on the river levee, and we're lucky to live right next to it," she says. "Usually, while Mom was really sick, I cried on the levee.
"You have to save yourself. You do have to ask for help and never be embarrassed to talk to people and find out what your options are."
Christy's mother died a few years ago, but her 82-year-old father still occupies the apartment he built.
Caregiver, friend
Out at the Fitch home, LeAnna Grammer, a caregiver with Comfort Keepers, spends two hours a day, six days a week doing housework and other helpful tasks. She even has learned Henry's interests and posts a schedule next to the television so he can keep up with college sports and science programs on the Discovery Channel.
The additional hands help the Fitch family keep Henry as independent as possible. (He's still combing through years of data and publishing papers in scientific journals.)
"Nine times out of 10, people really want to stay in their own home as long as possible," said Seth Movsovitz, a certified senior adviser and owner of the Lawrence branch of Comfort Keepers. "Some of them need services like ours to go in and provide that help, to help keep the quality of life that the client and family wants."
That life quality doesn't just hinge on medication management and grocery shopping. Caregiver children should remember that their parents often just want a minute of their time.
"I think, as we grow older, one of the things that's most difficult is losing a reason to live," Morris says. "So keep somebody in the loop and stay in touch, and have the grandchildren send cards and just tell them what's going on."
Tips for baby boomers caring for their parents
1. Face your fears. Parents' demands can trigger basic fears: the looming specter of their mortality, the scary knowledge that their decline brings us a step closer to our own old age. Facing fears can help defuse them and put us back in control. 2. Say no, but gently. When a parents makes unreasonable demands, it's not always easy to say no. For practice, have a spouse or friend act out a scenario with you. Write out dialogue in advance, supplying your helper with a list of your parents' usual defenses. Formulate responses to all their potential arguments. 3. Separate needs from wants. There's a chasm of difference between a crucial need parents may have (food, clothing, shelter and basic kindness) and something they want (two-hour visits every day, your kids to be quiet at the table, a bigger condo in Florida). 4. Make fun a priority. Many people mistake quantity for quality when spending time with their parents. Plan activities that will bring you closer together. If possible, hire caregivers for routine chores and save your time and energy for more meaningful interactions. Join a book club with your mom; escort your father to an exhibit of World War II memorabilia. If they can't get around, find audio books you can listen to together. 5. Do your share of the work. Family dynamics can get out of whack when the care of an aging parent is involved. Though some siblings may be better suited to a task than you, always ask them how they feel about it. And remember: There is plenty you can do from afar, such as researching a medical procedure on the Internet, subsidizing home care and sending care packages. Source: AARP Magazine
Copyright 2018 The Lawrence Journal-World. All rights reserved. This material may not be published, broadcast, rewritten or redistributed. We strive to uphold our values for every story published.