Ten-year-old Kennedy Fasching's grandmother was on the floor unconscious. Kennedy called 911, but when dispatchers asked where she was calling from, she didn't know the exact address.
"I started freaking out," said Kennedy, who was visiting Lawrence from Lenexa on Dec. 30. "It was my first time being in the house, and I didn't know the address that good."
It's a situation that in the past could have left emergency workers struggling to find the home, given that Kennedy was calling from a cell phone. But emergency workers say they were able to find the location with no delay because of a new enhanced 911 system that's been in place in the county since May 2005.
Mark Bradford, chief of Lawrence-Douglas County Fire & Medical, is among those touting Kennedy's case as an example of the new system's power.
"This is probably one of the first ones we've had where location's been an issue and they used the system to identify where this child was calling from," Bradford said.
Before the new system, Bradford said, people with cell phones "would just call in, and if they didn't know where they were, we didn't know either."
The system, which cost about $125,000, relies on the ability of wireless phone companies to pinpoint the location of one of their calls, using either satellites or their towers. The phone companies then relay that information to the county's 911 center inside the Judicial & Law Enforcement Center at 111 E. 11th St.
All wireless phone companies in Douglas County have the capability to supply that information, but it may not work with older phones, said Jim Denney, the county's director of emergency communications.
Denney said it's uncommon to get wireless 911 calls from people who don't know where they are.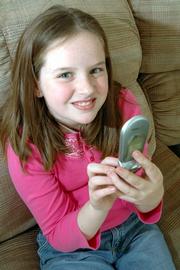 "But usually when they don't know where they are, it's really a serious situation," he said. "When they get excited and have a great amount of fear, or when it's a child, that's when they don't know."
Kennedy's ordeal happened at the home of her father, Craig Fasching, and 63-year-old grandmother, Lori Fasching, in the 400 block of Sharon Court. The two recently had moved into the home and hadn't yet hooked up their land-based phone line.
After Craig Fasching left for work, Lori Fasching, a diabetic, collapsed on the kitchen floor. Kennedy said she remembered thinking, "Oh man, I'm in deep trouble."
Kennedy first called her mother, who told her to call 911. Kennedy said she told dispatchers the names of streets nearby but couldn't remember the exact address.
As Kennedy called 911, her mother called Craig Fasching and told him about the emergency. He eventually called 911 and supplied the correct address to dispatchers. By that time, he said, emergency crews were about a block away.
Craig Fasching said there's no way of knowing exactly how much time was saved by having the enhanced 911 service. But Lori Fasching is grateful for it.
"It was a great tool," she said.
Copyright 2018 The Lawrence Journal-World. All rights reserved. This material may not be published, broadcast, rewritten or redistributed. We strive to uphold our values for every story published.