Turin, Italy — Dazzled, cheering fans danced on their chairs in the winter cold Friday night, and the opening ceremony of the Winter Games became one giant house party.
Passion was the show's theme, and passion was what poured from the audience, right up to the arrival of the Olympic torch, carried by skiing hero Alberto "La Bomba" Tomba, who ran up the stage steps and handed it off to a succession of Italian medal winners.
Ultimately it was Stefania Belmondo, a two-time gold-medal winner in cross-country skiing, who touched the flame to a wire that ignited fireworks and lit the Olympic caldron.
The cheering crowd screamed its delight - just one of the many times it did so throughout the three-hour show.
But it wasn't truly over until the big man sang.
Luciano Pavarotti performed "Nessun Dorma," ("Let No One Sleep"), from Puccini's "Turandot," an aria that the tenor has turned into a signature piece.
While that closing number sent spectators home happy, it was the parade of nations that really got the party going.
More than 2,500 athletes arrived to the accompaniment of chest-thumping disco ranging from "YMCA" by the Village People to "I Will Survive," by Gloria Gaynor.
Italy, as host country, entered last and brought down the house. Dressed in fur-trimmed coats, against the pulsating, popular Italian pop song "Una Donna Per Amico" ("A Woman For a Friend"), the crowd jumped to its feet and shouted while ringing souvenir cow bells provided by show organizers.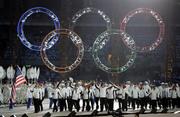 Second only to the audience's reaction to Italy was the roaring welcome given to the Americans. Around the packed stadium, fans stood and clapped as "Daddy Cool" blared through loudspeakers.
More than 200 U.S. athletes, wearing white coats and hats of blue and red, waved and blew kisses. Giant video screens showed a smiling first lady Laura Bush.
In an unusual security move, three plain-clothed guards followed the Danish team as it marched through - a precaution that responded to recent violence by Muslims enraged at derogatory cartoons of the Prophet Muhammad published in Danish newspapers.
Security was also tight for the arrival of Mrs. Bush and Cherie Blair, wife of British Prime Minister Tony Blair.
"Rhythm, Passion and Speed," promised the show's producers, and those watching - an estimated 35,000 at the Olympic Stadium and two billion tuning in - got all of that.
The program opened with Yuri Chechi, one of Italy's most famous gymnasts, swinging a mighty hammer onto a giant anvil that sparked tall flames. Rollerbladers in red body suits zoomed across the stage, two-foot flames shooting out the back of their heads.
Copyright 2018 The Associated Press. All rights reserved. This material may not be published, broadcast, rewritten or redistributed. We strive to uphold our values for every story published.