Baghdad, Iraq — A car bomb killed at least eight people Friday outside a Sunni mosque in Baghdad and gunmen abducted a Sunni cleric, raising sectarian tensions as the election commission gave the final go-ahead for talks to begin in earnest on a new government.
The blast occurred about 10 yards from the Iskan al-Shaabi mosque in the tense Dora neighborhood, shattering windows and showering glass on worshippers at the main weekly Muslim prayer service.
At least 21 people were injured, according to Dr. Muhannad Jawad, of Yarmouk General Hospital. Pools of blood in the street indicated that most of the dead were outside the mosque.
About an hour later, several masked gunmen shouting "Allahu Akbar," or "God is great," arrived in two cars and began shooting at people standing outside the mosque, witnesses said.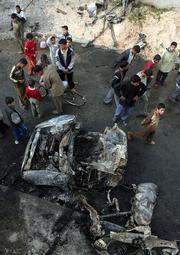 An Associated Press photographer saw two bystanders gunned down by the masked men, one of whom held a pistol to the head of a woman. The photographer fled, but police later said the woman was killed and two men were wounded.
Also Friday, the U.S. military said two Marines were killed the day before by a roadside bomb near Fallujah, 40 miles west of Baghdad. At least 2,269 U.S. military personnel have died since the Iraq war began in March 2003, according to an Associated Press count.
No group claimed responsibility for the mosque attack, and it was unclear whether the gunmen were the ones responsible for the car bomb.
Copyright 2018 The Associated Press. All rights reserved. This material may not be published, broadcast, rewritten or redistributed. We strive to uphold our values for every story published.