The gymnasium at Central Junior High School is a relic straight out of the movie "Hoosiers" - the court sits 15 feet below the elevated bleachers, where fans gather to cheer adolescent athletes.
"It's a matchbox. It's not regulation-size," said Gary E. Hall, who coaches ninth-grade basketball at Central. "The lines are so confusing for referees. That's an experience in itself."
On Thursday, the final game was played at Coach Nanny Duver Gym, where athletes from Central - and, before it, Liberty Memorial High School - strutted their stuff for 80 years.
"This is a historical event," Hall said before the game. "How many times do we get a chance to close a gym?"
The old-fashioned gymnasium had its peculiarities - awnings above the sidelines and floor markings to accommodate a court that, these days, is shorter than basketball standard regulations allow.
"It's the only place where we can pull the ball over our head and lose possession of the ball," Hall said.
But Duver Gym's architectural oddities created some advantages for the home team.
"It makes it way louder," ninth-grader Chuck Hunter said.
Photo Gallery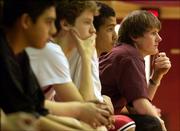 Central Junior High gym
"Loved it; loved it," ninth-grader Denzell Payne said of playing in the old place.
Hunter and Payne approached the school's principal, Frank Harwood, and asked for special recognition of the gym for the final game. An announcement before the eighth- and ninth-grade games Thursday made fans aware of the gym's history.
Construction is set to begin in March to transform the old gym into a space for band and music classes. A new gym will be built on the north side of the school. It also will have Duver's name, Harwood said.
The school at 1400 Mass. opened in the 1920s as Liberty Memorial High School. After Lawrence High School opened in 1954, the building served as Lawrence's only junior high school until West Junior High School opened in 1960.
The gym was named in 1982 for Wilbur G. "Nanny" Duver, a well-known physical education teacher and football coach at Central and LHS. He coached for more than 30 years until he retired in 1981. Duver died in 1988 at 72.
"He was a strong disciplinarian, but he was really good when it came to teaching kids the difference between right and wrong and how to take care of business," said Hank Booth, a Lawrence native and general manager at KLZR-FM and KLWN-AM.
"He was really an icon," Hall said.
Copyright 2018 The Lawrence Journal-World. All rights reserved. This material may not be published, broadcast, rewritten or redistributed. We strive to uphold our values for every story published.