Pittsburg — He didn't make a shot from beyond the three-point line, or inside it, either. A year after Pitt had no answer for Kevin Pittsnogle, he had no points and not much impact in a rivalry he personally decided last season.
Ronald Ramon and Aaron Gray scored 16 points each, and No. 14 Pittsburgh clamped down on ninth-ranked West Virginia with its man-to-man defense, winning 57-53 Thursday night to snap a two-game losing streak.
"Two more shots and we might have won this game," said coach John Beilein, as surprised as anyone that the Mountaineers were that close in a game they played so badly.
But Pitt star Carl Krauser, held to three points until then, hit a driving layup with 39 seconds remaining and Pittsburgh (18-3, 7-3) held on to avoid its first three-game losing streak since late in the 2000-01 season. Krauser scored five of his eight points in the final minute.
Mike Gansey had 12 and Patrick Beilein 11 for West Virginia, which had won 15 of its previous 16.
"They played tremendous defense on us," John Beilein said. "They frustrate you. They're very good defenders, and we as a team have to learn how to handle it when that happens. ... I don't like the way we handled a lot of things, but we are going to learn from this game."
Gansey could sense that frustration from his teammates, but he said the Mountaineers can't get down after losing for only the second time since late November.
"Nobody is going to be unbeaten the way the Big East is now," Gansey said.
No. 13 UCLA 50, Washington State 30
Pullman, Wash. - Jordan Farmar scored 20 points to help UCLA remain atop the Pacific-10 Conference.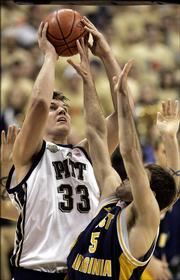 UCLA (20-4, 10-2 Pac-10) has won four in a row and recorded its first 20-win season since 2001-02.
No. 19 Ohio State 94, No. 22 Michigan 85
Ann Arbor, Mich. - Jamar Butler scored a career-high 20 points to lead Ohio State to its first victory in Crisler Arena since 2002.
Courtney Sims had 26 points and a career-high 16 rebounds for the Wolverines. Michigan guard Dion Harris had 14 points before spraining his right ankle midway through the second half.
No. 15 Georgtown 64, St. John's 41
Washington - Brandon Bowman scored 16 points, Roy Hibbert had 14, and Georgetown's defense throttled the St. John's attack from the opening whistle.
Bowman and Hibbert were a combined 12-for-16 from the field, a one-two punch that accounted for 30 of Georgetown's first 50 points.
St. John's has lost five straight since handing Pitt its first loss of the season Jan. 21.
No. 21 Washington 87, Southern Cal 73
Seattle - Brandon Roy scored 25 points and Jamaal Williams responded with 15 after being pulled from the starting lineup to lead Washington to a quick start.
Nick Young scored 28 points and Lodrick Stewart, twin brother of Kansas University's Rodrick Stewart, added 16 for the Trojans.
Copyright 2018 The Associated Press. All rights reserved. This material may not be published, broadcast, rewritten or redistributed. We strive to uphold our values for every story published.