Los Angeles — Seven Los Angeles County jails remained on lockdown Thursday as another brawl broke out between Hispanic and black inmates, continuing a week of rioting that has injured scores of inmates and killed one.
A fight involving about 200 inmates broke out Thursday afternoon at two dorms in the East Facility of Pitchess Detention Center near Castaic, about 40 miles northwest of downtown Los Angeles, authorities said.
Authorities quelled the brief melee using gas, officials said. No deputies were hurt.
Five racially motivated fights broke out Wednesday, the largest involving about 300 inmates in a dorm at the jail complex's medium-security North Facility, said sheriff's Sgt. Don Manumaleuna.
Nineteen inmates were injured in the fighting Wednesday, one critically, said sheriff's Deputy Bill Spear.
Wednesday's brawls began inside a group dorm, where more than 100 inmates separated themselves along racial lines. That violence was quickly put down, but similar fights broke out at four more dorms, leading deputies to fire sting balls on inmates to gain control, said sheriff's Sgt. Diane Hecht.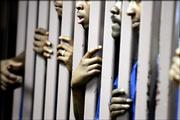 Investigators were looking into the cause and timing of Wednesday's fights.
All seven county jails were expected to remain locked down for a second day, Spear said.
A section of the same detention center was the site of rioting Saturday between Hispanic and black inmates that killed one man and injured more than 100 others. That was followed by two jail melees Monday night.
Authorities have said they suspect the recent violence was started by gang leaders outside the jail contacting Hispanic associates inside and directing them to attack blacks as retaliation for a recent assault in South Los Angeles.
In an interview with The Associated Press, California Corrections Secretary Roderick Q. Hickman said his department has offered to work with sheriff's officials.
He said state authorities want to know what's causing the problems there so they don't spill into the statewide prison system. The Los Angeles County jails often feed into the prison system.
Copyright 2018 The Associated Press. All rights reserved. This material may not be published, broadcast, rewritten or redistributed. We strive to uphold our values for every story published.