Katie Stohs always wanted to know what toothpaste worked best at keeping teeth white.
The ninth-grade student at South Junior High School used the Douglas County Science Fair as an opportunity to answer her question.
Stohs soaked five tiles in coffee for 20 hours. After they had turned from a clean white to a dingy brown, she used toothpaste from five brands to scrub each tile 100 times with equal force for five rounds.
"It turned out that Aquafresh worked best," Stohs said. "I thought it would be best for Crest Whitening because that's what I usually use."
Stohs is one of 352 students in Douglas County who have entered a project in the 55th annual science fair. The public can view exhibits today from noon to 10 p.m. in Building 21 at the Douglas County 4-H Fairgrounds, 2110 Harper St. An awards ceremony will begin at 7 tonight.
Judges already have finished their reviews of the projects and awarded first, second and third places in physical and life science categories to students from kindergarten through high school.
"The top of the line this year is better than I think it has been in the last couple of years," said David Nordlund, director for the Douglas County Science Fair Assn.
Photo Gallery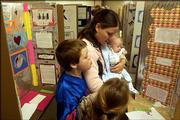 Douglas County science fair
The judges also awarded prizes in subcategories, such as best aviation or environmental project.
The fair association hopes to send at least the first- through third-place winners in each age group and category to the Greater Kansas City fair. The fair's registration deadline is Feb. 24. The event is March 29 through April 2.
While the area fair is free, Nordlund says the fair association, which has 12 volunteer members, is cutting it close on its bills because it relies on donations. The association also hopes to pay fees for area entrants into the Kansas City fair.
"We're concerned about the future. The things we need are some active committee members," he said.
To learn more about the county fair or the association, call Nordlund at 766-2136 or 842-0746, or e-mail dave@nordlund.org.
Copyright 2018 The Lawrence Journal-World. All rights reserved. This material may not be published, broadcast, rewritten or redistributed. We strive to uphold our values for every story published.