Wednesday's 48th Annual Grammy Awards proved several things: Madonna can still wear a leotard, Kelly Clarkson can be forgetful and "American Idol" can put a serious damper on the music industry's biggest night.
Ratings for the Grammys, a 3 1/2-hour marathon on CBS that began with 47-year-old Madonna shaking to her dance hit "Hung Up" alongside the cartoon band Gorillaz, slumped to their lowest level since at least 1987, with an average of 17 million total viewers tuning in, according to Nielsen Media Research. The program slipped 10 percent compared with last season. As recently as 2004, the Grammys logged more than 26 million viewers.
The least-watched Grammy telecast was in 1995 when the show was watched by 17.2 million people. Last year's show was seen by 18.8 million people.
Why the decline? Partly to avoid competing with Sunday's Super Bowl XL on ABC, CBS made the fateful decision to switch the telecast back to Wednesday, its perch from 1995 to 2002. That put the Grammys in its first-ever head-to-head competition with the monster smash "Idol." It was thus a TV contest between the singing hopefuls and the music pros - and both ended up taking a hit. It's the first time CBS has failed to win a Grammy night in the ratings in 12 years.
After "Idol" went off the air, the Grammys picked up a little steam. For its full three-and-a-half hours, the Grammy Awards' average viewership was 17 million people.
The "Idol" shadow hung over more than just the Grammy ratings. One of the controversies involved former "Idol" winner Clarkson who, in picking up two Grammys, thanked her mother and others during two acceptance speeches but did not mention the Fox show where she got her start. Backstage, however, she said she simply "forgot."
"Idol" creator and executive producer Simon Fuller professed no hard feelings. "I'm extremely proud that Kelly won two Grammys for this album. ... No one deserves it more than her," Fuller said in a statement issued Thursday. "As our first winner, Kelly will always be a big part of the 'American Idol' legacy."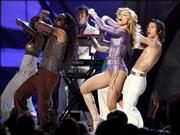 Grammy producer Ken Ehrlich sounded philosophical about the ratings in an interview Thursday morning.
"I don't think we had any great expectations," Erlich said. "Obviously we knew that when the show was moved from Sunday to Wednesday ... we were headed into some strong competition.
"We would always like to do better, but there's a reality here: 'American Idol' is a very potent show."
Indeed, many of the Grammy nominees - such as rockers Coldplay and rapper Kanye West - are popular with the same young adult audience that has given "Idol" its highest-ever ratings this season. Accordingly, the programs bruised each other when placed together in the ring.
The music pros can take a little comfort in at least slowing the "American Idol" momentum. It was the first time in seven telecasts this season that "Idol" was seen by fewer than 30 million people.
Copyright 2018 The Lawrence Journal-World. All rights reserved. This material may not be published, broadcast, rewritten or redistributed. We strive to uphold our values for every story published.