Vatican City — Laura Bush said Pope Benedict XVI expressed concern over violence linked to the prophet drawings in their meeting Thursday, with the pontiff calling for peace and tolerance.
"He talked to me about the worries of terrorism, the worries right now of the violence in Beirut and Damascus and other cities," Bush said after the 20-minute meeting in the pope's private library.
The pontiff, she said, also expressed his hope "and certainly our hope, for peace and for tolerance, for each of us to treat everyone else with respect."
Benedict also wished Bush "a peaceful time" in Turin, where she is leading the official U.S. delegation to the Olympics.
"We're looking forward to the games," Bush told the pope as she arrived for the meeting along with her daughter, Barbara, and the U.S. ambassador to the Holy See, Francis Rooney.
Bush told reporters after the meeting that she understood the offense Muslims around the world feel about the publication in European newspapers of the caricatures of the Prophet Muhammad.
"On the other hand, I don't think violence is the answer. I think that everyone around the world needs to speak out and say 'Let's stop the violence.' It's really not necessary to get the point across that they were offended by those cartoons."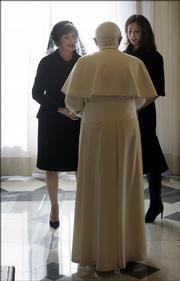 She said she and the pope discussed the violence briefly, although spoke at greater length about religion and the separation of church and state in the United States.
During the meeting, Bush gave Benedict a small silver bowl engraved with the U.S. presidential seal and the signatures of the president and first lady; the pope in turn gave the first lady and Barbara rosaries and Rooney a Vatican medal.
As she left, the first lady told the pope that the president "sends his best wishes." She said she would also relay the pope's good wishes back to him.
Copyright 2018 The Associated Press. All rights reserved. This material may not be published, broadcast, rewritten or redistributed. We strive to uphold our values for every story published.