It was just an accident.
That's the finding Douglas County Dist. Atty. Charles Branson's office made after reviewing reports from the death of 6-year-old Bryce Olsen, who was struck and killed by a minivan last week in the Prairie Park neighborhood. Branson said Thursday he would not seek any criminal charges against the minivan's driver, 45-year-old Peter Matthias Kwesi Afful, of Lawrence, in part because shrubbery obstructed Afful's view of the intersection.
"A full case review was completed by me and seven attorneys in my office and the unanimous decision was made to decline charges," Branson said in a statement.
Bryce's father, Bret Olsen, had mixed reactions to the news. He said he still didn't understand how Afful couldn't have seen his son cross the street, but he questioned whether Afful deserved to go to jail.
"I have to forgive the man and carry on with my life : and try to make the community aware of what's happened," Olsen said. He said prosecutors "are doing their job, and I guess they do it to the best of their ability. It's not going to bring Bryce back."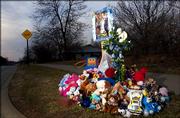 The wreck happened Jan. 30 as Bryce, a kindergartner at Prairie Park School, rode his scooter across Harper Street at the intersection of East 25th Terrace. Afful had stopped at the stop sign on southbound Harper and was making a right turn onto East 25th Terrace when he struck Bryce.
Branson called the wreck a "tragic accident" but said it didn't meet the criteria required for vehicular homicide. That crime is defined as killing someone while driving in a way that "creates an unreasonable risk of injury to the person or property of another and which constitutes a material deviation from the standard of care which a reasonable person would observe under the same circumstances."
In his statement, Branson said: "Under the facts of this case, the driver's view was obstructed by shrubbery on the side of the road, it appears that the driver stopped at the stop sign and waited for traffic to clear before he proceeded forward, and there is doubt as to whether or not the child stopped before entering the roadway while riding a scooter."
Branson said he would refer the case back to police to ticket Afful for driving without proof of insurance.
Branson reminded drivers to be cautious in neighborhoods where children live. He also reminded parents to review their children's routes to school and practice them with their children to make sure they're cautious.
Copyright 2018 The Lawrence Journal-World. All rights reserved. This material may not be published, broadcast, rewritten or redistributed. We strive to uphold our values for every story published.