Topeka — Tenants led by Kansas University student leaders on Wednesday urged the Legislature to enact safeguards against unfair landlords who assess exorbitant cleaning fees and other charges.
Josh Bender, legislative director for KU Student Senate, provided lawmakers with a copy of a rental agreement that included a long list of move-out cleaning costs.
Bender said the landlord could have picked up a soda can from the patio and charged $45.
"These are arbitrary numbers that have no relevance to actual cost," he said. "That is outrageous."
But landlords said students needed to grow up.
"Universities are teaching young kids how to survive in the real world and part of that is don't sign anything before you read it," said Ed Jaskinia, head of the Associated Landlords of Kansas.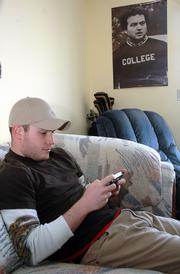 The Senate Judiciary Committee took no action on Bender's proposed amendments to the Kansas Residential Landlord Tenant Act, which are contained in Senate Bill 380, but Chairman John Vratil, R-Leawood, said the panel would probably work on the bill later this session.
"It depends on how much time we have and the interest from committee members," Vratil said. "I'd kind of like to show the students that the legislative process works."
Jaskinia said the list of potential move-out charges provided by landlords is given as a courtesy to tenants to let them know how much it will cost to clean up and repair a vacated rental property.
Bender also complained that some lease agreements contain automatic renewal clauses, in which a tenant must inform the landlord by a certain date that he or she is moving out, or the tenant is automatically signed to another one-year lease.
Bender said he would like to see the law require that the date of notification occur no earlier than 90 days before the end of the lease.
Jaskinia said the Legislature shouldn't dictate to landlords when they can enact a renewal clause.
In Lawrence, for example, he said many rental properties are vacant three months of the year, and then at the start of school at KU there is a tremendous demand. Landlords need to be informed early on whether the tenant plans to stay another year.
"This is strictly a college town problem," he said.
Jaskinia said his advice to college students was "don't rent from people you don't want to rent from."
But Bender said students are under pressure to find a place to live in limited housing markets, and they often can't understand the legal jargon of leases.
Bender also would like the law to require the tenant and landlord to walk through the rental unit a week or two before the end of the lease to determine any damage caused by the resident. But landlords and property managers opposed that, saying that damage could go unnoticed by being covered by the resident's furniture.
Copyright 2018 The Lawrence Journal-World. All rights reserved. This material may not be published, broadcast, rewritten or redistributed. We strive to uphold our values for every story published.