LUBBOCK, TEX. — "We still missed a couple we should have had," the junior guard said after scoring 18 points to lead the Longhorns to a 65-44 victory over Texas Tech on Monday night. "It's just wanting to get rebounds. It's a mentality."
Texas Tech had just two field goals over the final nine minutes and was outrebounded 50-22. The rebound margin is the highest ever for Texas in the Big 12.
"It was a great night for us on the boards," Texas coach Rick Barnes said. "P.J and LaMarcus (Aldridge) are terrific on the boards."
The win was the 12th in 13 games for the Longhorns and it gave them a school-record seven straight 20-win seasons.
It was Tucker's third straight double-double and his ninth this season, and his rebound total was just five shy of what the Red Raiders got as a team.
Aldridge, who struggled the last two games with foul trouble, had 17 points and 11 rebounds - his 11th double-double of the season - while Kenton Paulino added 10 points for the Longhorns.
Texas (20-3, 8-1) beat the Red Raiders 80-46 last month. This was only the second home loss for Texas Tech (12-11, 4-5) this season. They lost to Louisiana Tech 68-53 in early December.
The Longhorns were in control from the start, building a 32-21 halftime lead. They were up 38-23 on a basket by Aldridge with 17:20 remaining. Texas Tech got within 43-34 on consecutive baskets by Jarrius Jackson, but the Longhorns went on a 17-6 run to go up 60-40 with 6:30 remaining.
The Longhorns entered the game allowing 59.2 points per game and opponents were shooting 37.2 percent from the field.
Tucker was 6-of-13 from the field and 6-of-7 from the free throw line.
"They're a very good basketball team," Tech coach Bob Knight said. "We're not a very good basketball team."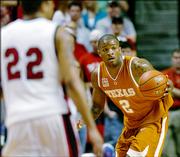 Knight, who fell to 2-9 against Texas in his five seasons as coach of the Red Raiders, said Tucker's quickness and enthusiasm make him an asset.
"Tucker is impressive without his basketball skills because he's one of those guys that makes other people play better," Knight said. "Tucker has the kind of enthusiasm that Ronald Ross has."
Ross was the court leader for the Red Raiders last season and they have struggled to replace him.
Texas played man-to-man defense in the first half but switched to a 2-3 zone after the break.
"I don't know if we can guard Texas Tech for 40 minutes man-to-man," Barnes said. "We were tired. Zone was good to us tonight."
Jackson scored 14 points and John Plefka added 10 for the Red Raiders, who shot 32 percent (16-for-50).
Tech endured two stretches in the first half where it scored on only one of eight possessions.
Texas had 27 rebounds in the first half to 11 for the Red Raiders.
Tucker had 10 points and 10 rebounds in the first half.
The 21-point margin of defeat is the largest at home since Knight came to West Texas in 2001. The previous was last season when Oklahoma beat the Red Raiders 74-54 in Lubbock.
Copyright 2018 The Associated Press. All rights reserved. This material may not be published, broadcast, rewritten or redistributed. We strive to uphold our values for every story published.