A new City Hall report shows 31 percent of Lawrence streets have deteriorated to the point they cannot be repaired. Instead, they must be rebuilt.
City Commissioner David Schauner said that's because the city for too long has put off until later needed repairs.
"It is now later," Schauner said. "That's a huge problem. I think it means that historically we haven't been doing enough preventive maintenance. It has been a pay-me-now or pay-me-later situation, and we have oftentimes chosen later."
The report by the Public Works Department doesn't estimate what it would cost to rebuild the streets rated unacceptable. Instead the report focuses on providing additional maintenance to streets still deemed adequate.
Chuck Soules, director of the city's Public Works Department, said the department needs $6 million per year through 2009 to keep additional streets from falling into the unacceptable category.
"We have some needs, and they are more than what we've previously budgeted for," Soules said.
Concerns about funding
Currently, the city spends $4 million for its primary street maintenance program, which is up $1 million from 2005 levels. City commissioners on Monday said they would work hard to come up with the extra money but were concerned about what it would do to the city's budget and taxes.
"I know we can't just allow our debt to continue to grow," City Commissioner Mike Amyx said of the city's budget, which includes about $100 million worth of debt. "But we have to take care of our infrastructure. We can't allow it to deteriorate beyond the point of repair. This is a really basic service that people expect."
Schauner said a bigger concern than finding the money for proper maintenance may be finding ways to replace streets already past fixing.
The city has about 300 miles of streets, meaning that about 90 miles of streets have been rated unacceptable. To put that in perspective, rebuilding about seven blocks of Kasold Drive near Clinton Parkway is slated to cost the city approximately $3.7 million this year.
"I don't know how much it will cost to fix all of them, but I know it will be more than $6 million a year, a lot more," Schauner said.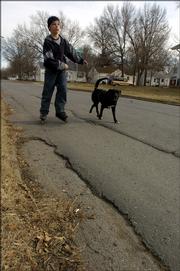 Soules said the problem is manageable. He said that after 2009, the city shouldn't need to spend the entire $6 million per year for preventive street maintenance. Some of that money could be redirected to major repairs or rebuilding.
Longer-lasting streets
Soules said future streets also should last longer. Since he joined the department in 2002, he's implemented new building standards that beef up the base of city streets. The city also is turning to concrete over asphalt more often for its building material. Soules said concrete streets should last approximately 30 years without major repairs.
The bad news is that there were plenty of Lawrence streets built under older standards. For example, Wakarusa Drive was built directly on Kansas clay that frequently shrinks and expands. The results are numerous cracks and potholes for motorists to avoid.
"At some point, we're going to have to rebuild that road," Soules said. "We can keep patching and patching and patching, but at some point it is going to be a waste of time."
A city engineer during the past year rated every city street based on the severity of cracking, potholes, rutting and other structural issues. The survey ranks each segment of street on a scale of 1 to 100, with 100 being the best score. The overall average for the city was 69.
City commissioners will review the report as part of their weekly meeting, which begins at 6:35 p.m. tonight at City Hall, Sixth and Massachusetts streets.
Copyright 2018 The Lawrence Journal-World. All rights reserved. This material may not be published, broadcast, rewritten or redistributed. We strive to uphold our values for every story published.