If the Super Bowl seemed like a major sporting event, check your calendar: Valentine's Day is a week away, and it's time to get your shopping game plan together.
For fourth-quarter heroes (critics sometimes call them "procrastinators"), a gift of jewelry is like a special-teams shortcut. And the purchase for your loved one doesn't have to ring up a major credit card charge.
Style and sentiment is what you're after.
"We've selected a lot of vintage pieces for the holiday because we think of St. Valentine as kind of old-fashioned," says Bernadette Zacharias, a Goldmakers employee and daughter of owner Pete Zacharias. "They're like heirlooms, so they feel romantic."
Goldmakers, 723 Mass., carries a collection of vintage-style pieces by La Vie Parisienne, from hot dangling earrings that might have come off a recent spread of Vogue to dainty, heart-shaped pins for more conservative gift recipients.
The store has custom-made pieces, too, working in beautiful stones like blue topaz in a 1930s-style setting.
Bernadette says that pieces with silver are popular purchases; she also says white-gold or a pink- or red-gold are trendy right now.
"I think the white gold is really beautiful," she says. "I think people find it to be a flattering color for their skin.
"The red-gold, too, is a buttery kind of color, and it picks up the pink in skin tone."
Heart-themed jewelry is a top pick right now at The Etc. Shop, a carrier of the Brighton Jewelry line. Store owner Linda Lester showcases a number of Valentine's Day-themed jewelry. She recommends a necklace with a red heart pendant, $50, proceeds of which benefit the American Heart Assn.
Photo Gallery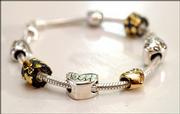 Bling on a budget
"It's a cause near and dear to the owner's heart," she says of Jerry Kohl, CEO of Brighton.
Kansas men aren't known for a preference for silver or taste for flashy stones. It doesn't mean jewelry won't make a good gift for them, too.
"We really like cuff links as a gift for men," says Bernadette, of Goldmakers. "We carry some interesting designs."
Even rings will work, she says, especially with a simple stone, such as turquoise.
If Valentine's Day 2006 calls for "the question," Goldmakers and many other local fine jewelers can take care of shoppers, too, with lovely and intricate diamond designs.
But keep this in mind for the 14th: "Want to open a Blockbuster account together?" is NOT the question.
Copyright 2018 The Lawrence Journal-World. All rights reserved. This material may not be published, broadcast, rewritten or redistributed. We strive to uphold our values for every story published.