Kansas parents who fall behind on - or never bothered making - their child support payments may soon find their driver's licenses restricted.
Their hunting and fishing licenses also could be in jeopardy.
Welfare officials are pushing several bills aimed at increasing child support collections.
"As it is now, we're only collecting 54 percent of what's available," said Gary Daniels, the state's welfare secretary. "Our goal is to do better than that."
Kansas ranks 34th in the nation in the percentage of children receiving their due financial support.
Officials from the Kansas Department of Social and Rehabilitation Services testified on Monday in favor of House Bill 2706, which would suspend the driver's licenses of parents who fall more than $500 behind in their court-ordered child support payments.
The bill also directs the Kansas Department of Revenue's Division of Motor Vehicles to share its driver's license database with SRS.
"Our goal is not for child support debtors to lose their driving privileges, but to encourage them to avoid losing their licenses by paying their support obligations on time and in full," said Jamie Corkhill, a policy attorney with SRS.
On Thursday, Daniels will testify in favor of Senate Bill 459, which would block delinquent parents from buying hunting and fishing licenses and camping permits.
Both bills include provisions that give delinquent parents the option of paying off their debts or entering payment plans that garnish their wages.
A third bill would let SRS tap a delinquent parent's insurance settlement for past-due child support. SRS already can withhold support payments from tax refunds and lottery winnings.
"We are trying to provide incentives," Daniels said.
In Kansas, thousands of children are on welfare because their non-custodial parents do not pay their child support.
Last year, SRS' child support collections topped $156 million. More than $576 million is collected past due.
"We'll never get all of it," said Paul Johnson, a lobbyist with Kansas Catholic Conference. "But with the proper tools, we think SRS could cut the monthly arrearage in half."
Johnson has been reminding lawmakers that 30 percent of all babies born in Kansas are born out of wedlock.
"This is a huge issue," he said.
A 29-year-old mother from Lawrence received three payments from her ex-husband last summer.
"Since then? Nothing," she said. "I'm a single mom with two kids living on about $1,200 a month - $525 of which goes to rent."
Her ex-husband, she said, is supposed to be paying $180 a month in child support.
"I work for a really good company," she said, "but my house is drafty and my electric bill is unbelievable. I pay whatever bills I can, but I can't pay all of them."
The woman and her ex-husband were married for seven years.
"I just wish he would be held responsible for his child," she said.
State Rep. Brenda Landwehr, R-Wichita, is all for cracking down on delinquent parents.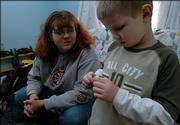 "If we truly care about children and families like we say we do, then child support is a no-brainer," said Landwehr, a conservative and chairwoman of the subcommittee that crafts SRS' budget.
SRS' initiative is the first since 1997, when lawmakers were forced to pass several bills to be in compliance with federal welfare reform efforts. At the time, conservatives argued the bills were an invasion of privacy.
That argument won't win many votes this year, Landwehr said.
"I'm all for protecting privacy and smaller government - everybody who knows me knows that," she said. "But if you've chosen to be a deadbeat and to live irresponsibly, then, in my opinion, you're just asking for government intervention."
Copyright 2018 The Lawrence Journal-World. All rights reserved. This material may not be published, broadcast, rewritten or redistributed. We strive to uphold our values for every story published.