Ask Banaka Okwuone to offer up a favorite memory from her Free State High athletic career, and she immediately zeroes in on her sophomore basketball campaign and a group of seven seniors who helped ease a youngster's transition into big-time varsity competition.
Now, it's Okwuone who finds herself in an important leadership role.
On a team featuring a talented yet inconsistent junior class, the 5-foot-11 senior is one of three elder statesmen looking to guide, motivate and cajole the Firebirds into the program's first-ever appearance in next month's Class 6A state basketball tournament.
A college volleyball career likely awaits for the three-sport star, and because of that, she doesn't plan to earn a fourth varsity letter this spring on the soccer pitch.
That leaves only one month of basketball at her disposal to put the wraps on her Free State tenure and perhaps chalk up a new favorite moment.
You're one of only three seniors on this year's team. Have you seen yourself trying to assume a big leadership role considering most of the players you usually find yourself on the floor with are juniors?
Yeah, it's kind of hard because of the leadership roles. There's only three of us and that's not a lot of voices - it's kind of hard to be heard sometimes. The majority of our players are juniors, so we still try to have a voice in what we say and make sure we're still hard.
How do you feel about the way things are going in your final year?
I think it could be better actually, because we've had a lot of close games that we could have finished off. We just need to learn how to play for four complete quarters instead of showing up at halftime and playing hard two quarters. We just need to come together and play a whole game.
Do you think part of the reason for that is the fact that you are such a young team?
I think that could contribute to it. But we had a really young team last year, too. I think we're taking steps forward. Practices have been good and we've been forced to perform. But I think we need to learn how to carry that over into game situations.
You don't score many points, and a lot of your impact doesn't show up in the box score. Do you like being a "role" player?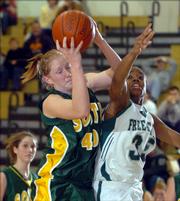 I have been since sophomore year. I haven't really had an impact on the scoring, but I try to contribute in other ways to the team.
One thing you do quite well is rebounding. Do you take a lot of pride in that part of your game?
I do. It's something that I work on, and it's something that I've been good at for a while. So I just try to keep going at it so I can just only get better at it.
You've played volleyball, basketball and soccer during your high school career. Is it tough to transition between the three sports seasons?
It definitely is. Sometimes you get really worn out because you have to go from one sport to another and you don't usually get a break. This year we got a two-week break, but I had to condition in that time, so it was actually really hard. You don't have a big social life sometimes, but it's our own choice to be in the sport. You just stick it out.
You're not going to play soccer this spring. What went into that decision?
I've been quite sick lately, and my asthma and my knees are not doing so great. I've actually hurt both of my knees playing soccer for the past two years, and if I think I might continue to play volleyball in college, I don't want to risk being hurt.
Which schools are you looking at?
I was actually talking to Kent State in Ohio, and Tennessee Tech and Randolph-Macon, a school in Virginia.
Back to basketball. How do you feel about the possibilities for your team over the next 3-4 weeks?
We've been talking about getting back and winning a few games in a row and getting back in the rhythm of things. We lost a tough one last week. We have a couple games coming up that we believe are all winnable, so we're going to try and get on a streak and get into it so we can be strong for sub-state which is coming up pretty soon. Because our goal is to go to state this year.
Do you feel like there would be a void there if you're not able to finish out your career with a trip to state?
Yes, I do. We've always lost our first game, and it's been close. Since this is my last year, I want to get there. I want to be there, and I think our team is there. We just have to keep going, keep moving forward.
As a senior, do you feel added responsibility that you've got to be the one to make it happen here in your last hurrah?
Oh yeah, definitely. Not just playing, but motivation, talking to the team, making everybody believe in it themselves and actually wanting to get there. Because they all think that maybe they have one more year, we'll get there next year. For me, this is it. This is the last one.
Copyright 2018 The Lawrence Journal-World. All rights reserved. This material may not be published, broadcast, rewritten or redistributed. We strive to uphold our values for every story published.