KU Info, the once-revered phone information service at Kansas University, is on hiatus as it plans its comeback.
Dial the number - 864-3506 - and a machine answers.
"KU Info is not going away," says one message. "We're still here to help you with your question, and we'll create an even stronger service to help you navigate the pathways and highways of KU information."
There was a time when one could call the number any time, day or night, and speak to a live person. But numerous changes to the decades-old service spurred some students last summer to protest its diminishment, circulating petitions pushing for its revival.
The university responded by appointing a new director, Curtis Marsh, and hailing his appointment as the mark of a new era.
The new service launches in April. Marsh said a budget has not been set yet. There will be 12 to 20 staff members answering questions by phone, through a Web site or e-mail, and face to face from two to three locations around campus.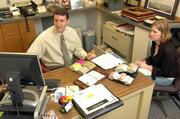 Technology is the key this time around, Marsh said. Hundreds of questions are answered on the service's Web site.
"That Web site is going to be our primary tool, the new index card," he said.
And, Marsh said, the system will address non-academic questions. If KU Info gets a question about drink specials at bars around town, for example, it will refer students to other Web sites where they may find the drink specials, Marsh said.
"We're going to be your one-click away from the right information," Marsh said. "KU Info may not be the final answer to your question, but we're going to know where to send you."
Rumor control
Those who recall its early years say they are sad to see the old service go.
"It's just sad that something that was so special to the university for so many years doesn't exist anymore - but that's true for a lot of things," said Susan Elkins, who was KU Info's director for 15 years before retiring in 2005 because of the changes.
KU Info was launched in 1970 for rumor control during the Vietnam War. It morphed into an information service that answered any and all students' questions. For many years, the office in the Kansas Union housed a small bed for students to sleep on while working the 24-hour line.
Marsh still has old index cards, once used to keep track of piles of information. They show the breadth of service it once offered. Entries include "balloon bouquets" and "asparagus farms."
Several years ago, for budget reasons, KU Info was transferred from what is now the department of student success to the libraries. In its new form, it will be jointly run by Student Success and Information Services. Marsh reports to two supervisors - one in each area.
In the meantime, some say they've lost track of the service.
Chris Smith, a senior from Overland Park, called KU Info years ago, but not in a long time.
"I just forgot the number," he said.
Scott Smith, a junior from Hutchinson, said the service is awesome. He called it once to find out whether a character in the show "Smallville" could fly or not. KU Info told him that in season five, the character learned of his ability to fly.
"They were really useful for a lot of things," Smith said.
But it's been a while since the service has helped Smith out.
"I called them a couple times over the break, and no one was there," he said.
Copyright 2018 The Lawrence Journal-World. All rights reserved. This material may not be published, broadcast, rewritten or redistributed. We strive to uphold our values for every story published.