ULYSSES — The prairie spreads for miles here in stubby, ashen-colored patches. Irrigation pivots spray out in circles, each minute sucking up hundreds of gallons of cold water from beneath the oil fields.
Ed Wiltse, mayor of the 6,000 citizens of this southwest Kansas county seat, is weighing how to spend his city's money. This year, there's little question where much of the money will go: he'll pump a quarter of the public works budget into buying water.
The vast underground pool that fills Ulysses' faucets, called the Ogallala Aquifer, is running low, forcing towns and farmers to spend beyond their means to tap alternative sources.
"Out here, water is like gold," said Wiltse, adjusting his glasses as he runs his hands over a chart of the town's faltering wells. "Without it, we perish."
The aquifer nourishes vital industries on the plains - its rich soil produces the nation's beef supply and much of its wheat and corn crops.
Ulysses sits in a stretch of the corn belt where the water table has dropped about 25 feet in the last decade. Once-wild rivers have turned to gravel, and aboveground streams stopped running years ago. It's been a long time since anyone thought the sky might water their crops.
As Ulysses' biggest well approaches bedrock, Wiltse's trying to figure out how the town will pay to pump water from an aquifer that each year drops further below ground.
Another 25 years
Since the 1940s, its wells have drawn from the Ogallala Aquifer, the world's largest underground water system. The Ogallala irrigates one-third of the nation's corn crops and provides drinking water to eight Midwestern states. It's also the fastest disappearing aquifer in the world.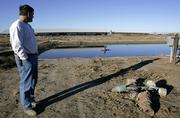 In many places, the aquifer is flush with water - in the area near Nebraska's Platte River, for instance, streams quickly recharge the water table's deep channels.
But hydrologists estimate in the flat plains around Ulysses, the aquifer will last about another 25 years if present usage continues. Farther south in the Texas panhandle, the United States Geological Survey's prognosis is even worse: the water table near Lubbock, Texas, is so depleted that the city would have gone dry by 2003 if leaders hadn't bought up water rights - a legal term for the privilege of tapping new sources of water.
Some farmers have started switching from corn to cotton, which needs less water. But for drinking water, towns have little choice but to spend millions to move water from miles away.
"We've just gone through a four-year drought," said Wiltse. "So now we're having to go further out from the city to purchase water rights. This time, we're not only paying to buy more water, but we'll be paying for underground water pipelines and booster pumps."
Quitting entirely
Aquifers hold the trapped runoff of several Ice Ages, but many in the U.S. have been depleted and contaminated in the last few decades. One, under Long Island in New York, is poisoned with chemical waste. Another, in Arizona, is being withdrawn more than 10 times faster than it can be recharged by rainfall.
What is a water right, and why does it matter?
What's a water right? The definition of a "water right" differs slightly from state to state. In Kansas, it allows a person, a corporation or a city to use up to a certain amount of water each year for a very specific purpose. The state can revoke the water right if the user doesn't draw on the amount of water they're granted each year. For rights granted from 1984 on, Kansas can mandate that a user not draw on their allotted water if the water flow in any aquifer or stream in the area is lower than the minimum levels set by the state.
Who can apply? Any farmer, corporation or municipality can apply for a water right, but in most of western Kansas, there's no new water available even if they apply.
Why it matters Water rights determine how water is apportioned between all the different players that use it. In Kansas, the right to use water is based on the principle of "first in time, first in right." So in times of shortage, that means the first person, corporation or municipality to get a water right can use all the water they're entitled to, even if that means taking the last drop available.
Who grants them? In Kansas, the Department of Water Resources administers water rights and water law. Other states that depend on the dwindling Ogallala Aquifer have similar agencies.
The Ogallala was born between the age when the Rocky Mountains were still emerging, and when the Great Plains were an inland sea. If it were spread out over the United States, it could cover the entire country with 1 1/2 feet of water.
But with this year's spike in the price of natural gas and electricity, some Midwestern farmers are quitting the business entirely because it costs too much to run their irrigation pumps.
Last month, Kansas Gov. Kathleen Sebelius proposed to pay farmers to stop watering their crops, going against nearly a century of state policy that doled out water rights to farmers almost indiscriminately. Along the state's western edge, the state has virtually banned any new uses of water.
"Once that water is used, it's not going to come back," said hydrologist Brownie Wilson, who monitors water declines at Kansas University in Lawrence. "But water users don't want to be restricted - they want to be paid to stop."
'Life blood'
After years of ignoring the problem, the federal government is trying to take action. This year's agriculture appropriations bill acknowledges the aquifer could go dry within two decades and calls for federal conservation efforts.
"There's an old saying that whisky's for drinking and water's for fighting," said U.S. Sen. Sam Brownback, a Kansas Republican. "Water is the life blood of this region. There's no question that it is our biggest policy question."
Both the National Corn Growers Assn. and the American Farm Bureau oppose any federal regulation of ground water, claiming that water rights are a state issue. Brownback said it's been nearly impossible to get support for limits on water used by eight states reliant on the aquifer - Colorado, Kansas, Nebraska, New Mexico, Oklahoma, South Dakota, Texas and Wyoming.
To the last drop
Kansas laws say the first entity to be granted a water right, whether a person or a farm, can use all the water they're entitled to in times of shortage, even if that means harvesting the last drop available. But after decades of treating the aquifer like an inexhaustible resource, city leaders and farmers are suddenly talking about conservation.
A group of concerned growers in Thomas County are considering an across-the-board 10 percent reduction in their water use.
If Kansas legislators approve Sebelius' budget, the farmers may get a payout. But Bob Buddemeier, who runs the Kansas Geological Survey, said unless the state overhauls its water laws to encourage and enforce conservation efforts, the future for Ulysses and towns like it "doesn't look rosy."
City leaders in Lubbock, Texas, thought the future looked downright dismal before they began buying up new water rights last year. The town has now spent $100 million to supply the city with water for the next 100 years.
"This ain't the time to play politics," said Lubbock councilman Gary Boren. "It's one of those things that if you don't have it you'll pay any price to get it."
Integration
After watching dozens of farmers foreclose, Ulysses farmer Donnie Young switched many fields from corn to cotton, which needs just two inches of water a year. He also became a partner in the Santa Fe Trail Dairy, a huge milking operation whose 10,000 cows sprawl out across the flat plains.
He said the spike in energy prices this winter will halve his income, and cost him an additional $12,000 to irrigate. So instead, he's integrated his two businesses. Young irrigates his crops with wastewater that's already been used in six different processes at the dairy. In turn, the cows' hot milk is cooled using water flowing directly from the aquifer.
"When I started out we used to flood this whole plain," Young said, an arm resting on his truck window as he leaves the cotton fields for the dairy. "We're gonna reach the point where it will no longer be economical to pump water. We may already be there today."
Copyright 2018 The Associated Press. All rights reserved. This material may not be published, broadcast, rewritten or redistributed. We strive to uphold our values for every story published.