Photo Gallery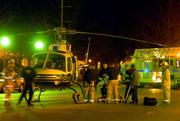 Mass Street Shooting
One man was killed and another man was seriously wounded when gunfire erupted overnight outside a downtown Lawrence night club, Lawrence Police announced this morning.
Robert Earl Williams, 46, was pronounced dead on arrival at Lawrence Memorial Hospital, where he was taken after being shot shortly after 2 a.m. in the street outside of the Granada, 1020 Mass. St., Police Capt. David L. Cobb said in a written statement released to the media.
Another victim, a 22-year-old man who has not yet been identified, was found inside the Granada, where he had run after being shot, Cobb said. That man, who had "serious wounds" was transported by helicopter ambulance to a Kansas City Hospital, where he was in surgery this morning, Cobb said.
Neither of the victims were Lawrence residents, Cobb said.
Police said witnesses have identified the man who fired the gun as being a 6-foot-tall African American who was wearing a "puffy-style" jacket. That man left the scene in a tan 1990s GM vehicle, Cobb said.
Officers and detectives were interviewing witnesses this morning and have cordoned off the area in front of the Granada with police tape as they search for evidence, Cobb said.
Anyone with information about the shooting and about the man who fired the gun are encouraged to contact the Lawrence Police Department Detective Division at 785-830-7430, or, to remain anonymous, call the TIPS HOTLINE at 785-843-TIPS(8477), Cobb said.
He said police will not release any further information about the shootings until 11 a.m. Monday.
-->
A witness at the scene early this morning, Steven Bowen, said he was standing by a car across the street from the Granada talking with two women when he heard three shots fired. Bowen said he saw an African American man fall face down to the ground.
Bowen said he rushed over, along with a Lawrence police officer, and they proceeded to turn the victim over and begin issuing CPR.
"I pushed down on his chest to get him breathing," said Bowen, who still had dried blood on his hands. "When an ambulance arrived the man had a slight pulse and was breathing better than he first was when I rushed over to him in the middle of the street."
Police, who responded to a call about the shootings at 2:12 a.m., also took dogs inside the Granada to investigate.
Copyright 2018 The Lawrence Journal-World. All rights reserved. This material may not be published, broadcast, rewritten or redistributed. We strive to uphold our values for every story published.