An old group with a new name is doing its part to help feed Lawrence.
Members of Food Not Banks are serving meals twice a week at the corner of Ninth and Massachusetts streets, outside US Bank.
The group is a renamed version of the Food Not Bombs chapters that sprung up around the country in the 1980s.
"For the people in this town," Jordan Ferrand-Sapsis said, "it's less about the name and more about the services we provide."
But the name change has attracted attention.
Keith McHenry, who co-founded Food Not Bombs in Massachusetts in the 1980s, said except for the rare, typically temporary exception, it was the first time he heard of a Food Not Bombs group altering its name.
"Usually, a group will change names because it's an anti-bank protest for a week or something," he said. "It's surprising to hear that they've kept it for so long."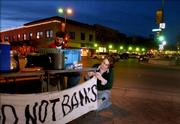 The group is only peripherally connected to the Lawrence Food Not Bombs group that used to serve in South Park in the late 1990s, when McHenry was here working with the Leonard Peltier Defense Committee.
That group disbanded soon after he left. Then, in February 2004, the Lawrence branch of the Industrial Workers of the World union and Kansas Mutual Aid members began a new chapter - changing the name to reflect its anticapitalist stance.
Eight people showed up early Wednesday night for the meal, but the group is about more than free food. Members also take stands for animal rights, and against nuclear power and war.
"It's kind of a twice-weekly protest," Ferrand-Sapsis said.
And for some of the group's volunteers, it's an opportunity not only to help hungry residents or protest banks, but also a time to share a meal with others.
Today, volunteer and Kansas University student Marta Buechler said, people often rush through their days, eat fast food and rarely break bread with others.
At their bi-weekly feedings, anyone who wants food can get a free hot dish, sit on a concrete planter or a lawn chair and chat with others from the community.
"Sitting down and eating a meal is so important," Buechler said.
Copyright 2018 The Lawrence Journal-World. All rights reserved. This material may not be published, broadcast, rewritten or redistributed. We strive to uphold our values for every story published.