Damascus, Syria — Thousands of Syrians enraged by caricatures of Islam's revered prophet torched the Danish and Norwegian embassies in Damascus on Saturday - the most violent in days of furious protests by Muslims in Asia, Europe and the Middle East.
In Gaza, Palestinians marched through the streets, storming European buildings and burning German and Danish flags. Protesters smashed the windows of the German cultural center and threw stones at the European Commission building, police said.
Iraqis rallying by the hundreds demanded an apology from the European Union, and the leader of the Palestinian group Hamas called the cartoons "an unforgivable insult" that merited punishment by death.
Pakistan summoned the envoys of nine Western countries in protest, and even Europeans took to the streets in Denmark and Britain to voice their anger.
At the heart of the protest: 12 caricatures of the Prophet Muhammad first published in Denmark's Jyllands-Posten in September and reprinted in European media in the past week.
One depicted the prophet wearing a turban shaped as a bomb with a burning fuse.
The drawings have touched a raw nerve in part because Islamic law is interpreted to forbid any depictions of the Prophet Muhammad.
Aggravating the affront, Denmark's Prime Minister Anders Fogh Rasmussen has said repeatedly he cannot apologize for his country's free press.
But other European leaders tried Saturday to calm the storm.
Germany's Chancellor Angela Merkel said she understood Muslims were hurt - though that did not justify violence.
"Freedom of the press is one of the great assets as a component of democracy, but we also have the value and asset of freedom of religion," Merkel told an international security conference in Munich, Germany.
The Vatican deplored the violence but said certain provocative forms of criticism were unacceptable.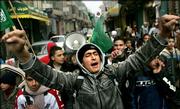 "The right to freedom of thought and expression ... cannot entail the right to offend the religious sentiment of believers," the Vatican said in its first statement on the controversy.
In the United States, the White House said Saturday it would hold Syria responsible for the burning of Danish and Norwegian embassies in Damascus, saying such violence does not occur there without the host government's approval.
In a statement released at President Bush's ranch in Texas, the United States strongly condemned the fires at the two embassies in the Syrian capital.
Denmark and Norway did not wait for more violence.
With their Damascus embassies in flames, the foreign ministries advised their citizens to leave Syria without delay.
"It's horrible and totally unacceptable," Danish Foreign Minister Per Stig Moeller said on Danish public television Saturday.
Copyright 2018 The Associated Press. All rights reserved. This material may not be published, broadcast, rewritten or redistributed. We strive to uphold our values for every story published.