Larry Sinks knows that his "Kansas Drinking Team," "Hawks Basketball" and "Kansas Swim Team" T-shirts remind customers of the big school atop Mount Oread.
He also knows that the folks at Kansas Athletics Inc. can't do a thing about it.
"There's nothing licensed here. Nothing," says Sinks, who recently opened Joe-College.com, a T-shirt and apparel shop at 734 Mass. "There are just a lot of fun shirts in here, and they're all unlicensed."
Such products - hinting at an association with Kansas University through color, typography or creative turns of phrases - allow retailers such as Sinks to avoid paying licensing fees, leaving the school out of the loop.
"We're on the edge," Sinks says.
There's plenty at stake. KU last year collected nearly $1 million in royalties from the sale of licensed KU apparel, products and services, the spoils from part of what has become a $2.8 billion industry for all U.S. colleges and universities.
The boom in sales of licensed apparel and other products - annual sales nationwide were $250 million just 25 years ago - shows few signs of letting up, industry observers say. And schools, like KU, are doing all they can to keep their share of the money growing, and that means protecting their trademarks and the revenues they produce.
Photo Gallery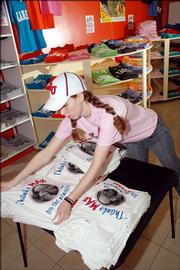 Shop edges out KU
Texas A&M; is the latest example. It went to court this month against the Seattle Seahawks, looking to stop the Super Bowl team's use of A&M;'s longtime "12th Man" designation for fan support.
Such moves are just business, says Derek Hughes, a spokesman for Collegiate Licensing Co. in Atlanta, which represents 170 colleges and universities, including KU.
"It's like any other company, like Coke or Microsoft," Hughes says. "They want to protect their brand."
KU moved in that direction earlier this year, when it transferred oversight of the Jayhawk and other trademarks from the chancellor's office to Kansas Athletics Inc. Officials are counting on the shift to help boost sales and lift the share of revenues going toward athletic scholarships, coaches' salaries and other operational expenses.
A little shop on Massachusetts Street isn't going to drain the department's $40 million annual budget, but the loss of potential revenue - and challenges to KU's image through unlicensed designs - has athletics officials keeping a watchful eye on Sinks and others.
"There are individuals, locally and across the country, that every school deals with who walk the line, and it's our job to act when they cross the line, and object when they even get close to the line," says Jim Marchiony, an associate athletics director at KU. "But legally, there's really nothing we can do until they cross that line."
Marchiony stops short of saying whether Sinks' "Kansas Swim Team" T-shirt crosses that line, but it's not too difficult to understand his concern. Here's a hint: The "team" members on the shirt do "swim," but only on the way to try to fertilize an egg.
"I can't think of a clear-thinking person here who wants (that) over a 'Kansas Swimming' T-shirt," Marchiony says. "We're aware of the Kansas Swim Team shirt, and we're pursuing options. That's all I'll say."
Sinks, for his part, says he's tried to sign up as a licensee through KU, but has been denied at every turn. He figures he's missing out on $200,000 a year in business by being unable to print officially licensed KU merchandise.
So, for now, he'll focus on Joe-College.com and the edgy apparel it sells, leaving KU out of the equation.
Here are the top 50 colleges and universities in terms of sales of
licensed apparel and other products during the second half of 2005,
according to Collegiate Licensing Co. in Atlanta, which represents
170 colleges and universities in the United States.
1. University of Michigan

2. University of Texas at Austin

3. University of Georgia

4. University of Notre Dame

5. University of North Carolina

6. University of Tennessee at Knoxville

7. University of Oklahoma

8. University of Florida

9. University of Alabama

10. Florida State University

11. Auburn University

12. Pennsylvania State University

13. Louisiana State University

14. University of Miami

15. University of Kentucky

16. University of Wisconsin

17. University of Nebraska

18. University of Illinois

19. University of Arkansas at Fayetteville

20. University of South Carolina

21. Oklahoma State University

22. Clemson University

23. University of Maryland

24. University of Kansas

25. Purdue University

26. University of Arizona

27. University of Virginia

28. Texas Tech University

29. Kansas State University

30. Duke University

31. University of Missouri

32. University of Louisville

33. University of Pittsburgh

34. University of Washington

35. Washington State University

36. Syracuse University

37. Georgia Institute of Technology

38. University of Mississippi

39. University of Colorado

40. University of Connecticut

41. Stanford University

42. University of Cincinnati

43. U.S. Military Academy

44. Oregon State University

45. University of Utah

46. Marshall University

47. University of Montana

48. Boise State University

49. U.S. Air Force Academy

50. Brigham Young University

Copyright 2018 The Lawrence Journal-World. All rights reserved. This material may not be published, broadcast, rewritten or redistributed. We strive to uphold our values for every story published.