Topeka — War widow Brandy Sacco wept and Patriot Guard Riders grimaced in disgust as the Rev. Fred Phelps told lawmakers Wednesday that he had a constitutional right to picket funerals of soldiers, carrying signs that say "Thank God for Dead Soldiers" and "Thank God for IEDs."
"States can't decide which religious message is right," Phelps said.
Phelps and his Westboro Baptist Church of Topeka have made headlines picketing funerals of soldiers nationwide. Phelps said the soldiers were being killed because God was angry at the United States' tolerance of homosexuality.
Kansas and other states, including Illinois, Indiana, Iowa, Missouri, Nebraska and West Virginia, are pursuing laws to keep demonstrators farther away from funerals because of Phelps' actions.
Sacco's husband, Sgt. Dominic Sacco, 32, was killed in Iraq in November. At his funeral in Topeka, Phelps and his followers demonstrated.
Phelps said the families of fallen soldiers had given up their rights to privacy because military personnel use the funerals to promote their policies, and politicians show up to get votes.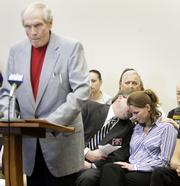 "These funerals have turned into public platforms," he said.
But others testified that the families should be allowed to mourn in private, away from Phelps and his placards.
"To me, they are nothing short of pornography," Brandy Sacco said of the signs.
Rep. Lee Tafanelli, R-Ozawkie, who recently returned from a year in Iraq where he commanded a Kansas National Guard battalion that had two soldiers killed, testified in support of the bill.
"This bill gives a family the right to some privacy during their darkest hour, to grieve, honor and pay their respects to their loved on. This is a right they have earned and that they deserve," he said.
He said freedom of speech doesn't allow people to "interfere, denigrate or harass families at funerals."
Phelps also demonstrated in October in Tonganoxie at the funeral of Lucas Frantz, a 22-year-old Army specialist killed in Iraq.
But community members installed a 10-foot high banner blocking the view of the memorial site from the demonstrators.
On Wednesday, Phelps told the Senate Federal and State Affairs Committee that it would be illegal to adopt a law that restricted his free speech.
"We can't be lawfully moved out of sight of our target audience," he said.
Richard Strothman, of Wichita, head of the Patriot Guard Riders, motorcyclists and military veterans who have traveled across the country to counter Phelps' presence at military funerals, also supported the bill.
Of Phelps, he said, "All I see that they are spreading is hate and harassment."
The bill would make it illegal to picket or have a protest march within 300 feet of any entrance to where a funeral service is being conducted. The restriction would apply one hour before to two hours after the service.
Rep. Kenny Wilk, R-Lansing, urged the committee to make the restrictive distance farther. "If we can make it five miles, let's do it," he said.
The committee took no action on the bill but is expected to work on it later.
Copyright 2018 The Lawrence Journal-World. All rights reserved. This material may not be published, broadcast, rewritten or redistributed. We strive to uphold our values for every story published.