"Paris porcelain" is the name used in "Kovels' Antiques & Collectibles Price List" for the very white porcelain made in France from about 1770 to 1870. The name "Vieux Paris" or "Old Paris" for these wares was first used by collectors in the late 19th century. In the late 1700s, the Sevres factory near Paris was established as France's national factory with "royal privilege." Its porcelains were top-quality, with original shapes and lavish decorations. Other makers near Paris soon began making similar porcelain pieces. Before long, 37 small factories and some retail decorating shops were selling what is now called Paris porcelain. Almost all of their wares were unmarked. The factories quickly updated patterns to keep up with the latest fashions. They even pirated some of the Sevres designs. Styles ranged from Empire to Victorian during the 100 years Paris porcelain was made, but the older decorated wares in classical shapes are most often seen today. It is difficult to determine who made a particular piece. Collectors, perhaps unknowingly, include wares from Bohemia, the Limoges area of France and the Thuringia region of Germany. All Paris porcelain is priced by the quality of decoration and the shape. Large ornate urns with lavish gold trim and vignettes of landscapes or portraits seem to be the most popular.
Q: I picked up a Plail Bros. rocker and side chair at a yard sale. The chairs have upholstered seats and cane backs. Their original labels are on the seat bottoms. The labels read "Plail Bros., Wayland, N.Y." and are hand-numbered. I have searched for information about this company, but I haven't found anything. Can you help?
A: John Plail worked for the Binghamton Chair Co. in Binghamton, N.Y., before he and some other Binghamton Chair employees left and founded the W.H. Gunlocke Chair Co. in 1902. Within a few years, John and his brother Joseph left Gunlocke to start their own company, Plail Bros. Chair Co., in Wayland. The company is best-known today for its chairs and settees, many with slatted barrel backs (straight slats inserted in a back slightly rounded at the corners). The Plail Bros. factory burned down in 1914, but it was rebuilt and remained in business until 1933. Collectors look for Plail's early Arts and Crafts barrel-back furniture and pay $3,000 and up for an excellent example.
Q: Could you give me some history on William Rogers silver? I have seen different first names for the company. Is it related to Rogers Brothers?
A: The reason for your confusion is that more than two dozen silver companies named Rogers were in business in Connecticut and Massachusetts from about 1830 until 1898. That's the year some of the Rogers companies joined several other American manufacturers to form the International Silver Co. in Meriden, Conn. Among the original Rogers companies, at least three were named Rogers Brothers and eight, William Rogers. Many of the same people were involved in several of the firms, and some brand names, such as "1847 Rogers Bros.," continued to be used by International Silver well into the 20th century. But much of the silver and silver-plated flatware and hollowware by all of these companies were marked in a unique way. You can usually determine who made a piece by comparing the mark to those pictured online or in books on American silver and silver plate.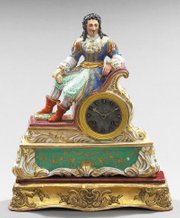 Q: I have an old Planters Peanuts glass jar with a green tin lid. The jar has a rectangular bottom, but one side is higher than the other - so the lid is on a slant. How old is the jar? My grandsons keep wanting to put bugs in it.
A: Don't let your grandsons use the jar. Planters Peanuts countertop jars like yours, called "streamline" or "clipper" jars, came in a few different heights and styles. They were slanted so a customer could reach into the jar easily. All the jars date from the 1930s and sell today for $50 to $200, depending on condition, style and whether or not the jar has its original labels and inserts.
Q: I have a pillow cover that belonged to my father more than 70 years ago. Fifteen small fabric black-and-white pictures of women and four small fabric color pictures of butterflies have been stitched to the cover using embroidery thread. The butterfly pictures are 1 5/8 by 2 1/2 inches and have no writing on them. Each of the women's pictures, about 3 by 2 inches, has her signature at the bottom and the printed name of a cigarette brand, such as "Old Mill Cigarettes." The women's names include Emma Carus, Bessie Clifford and Flora Zabelle. Where did these fabric pictures come from?
A: Your pillow cover is decorated with a collection of tobacco "silks" that were stuffed in cigarette packs from about 1912 to 1915. They were intended to pump up sales of cigarettes to women, just as the earliest baseball cards had helped sell cigarettes to men. Women were encouraged to use the silks to decorate pillow covers, tablecloths and bedspreads. The women pictured on your silks were famous Broadway actresses at the time. In general, old silks of butterflies and now-unknown actresses do not sell for high prices. But your pillow, if in good condition, has a "use" value of about $50.
Tip
Don't wrap Christmas ornaments in newspaper. The ink might rub off. Don't store them in plastic bags. Moisture might condense and cause problems.
Current prices
Current prices are recorded from antiques shows, flea markets, sales and auctions throughout the United States. Prices vary in different locations because of local economic conditions.
¢ Pillsbury 3rd Grand National 100 Prize Winning Recipes cookbook, 1952, 96 pages, $25.
¢ Tape measure, John Rabone & Sons, leather case, brass fittings, sprung steel, Birmingham, England, c. 1920, 48 ft., 3 inches in diameter, miniature, $58.
¢ Phineas T. Bluster squeak toy, "Howdy Doody," Kagran, 1950s, 7 inches, $115.
¢ Opalescent glass butter dish, cover, Swag with Brackets pattern, blue, $295.
¢ Marblehead vase, oatmeal-colored striated glaze, swollen shape, marked, 1908-36, 3 3/4 inches, $300.
Copyright 2018 The Lawrence Journal-World. All rights reserved. This material may not be published, broadcast, rewritten or redistributed. We strive to uphold our values for every story published.