Progress of sorts is about to fill up classic Liberty Hall.
Workers Friday were removing 400 decades-old balcony seats to make way for newer ones.
"We just want folks to come in and sit down comfortably," said co-manager Rob Fitzgerald about the 397 new seats that will keep the traditional maroon color.
Liberty Hall remodeling may not have seen such activity since 1985 when a truck pulled up from the Kansas City area with handles, bolts, cushions and backs for recycled seats dating back to the 1930s to 1950s.
Theater and moviegoers familiar with the old seats will find the new ones slightly shorter but with a little more leg room, Fitzgerald said. The width of the new art deco-style seat - 19 to 21 inches - will be similar to its worn-out predecessor that was 18 to 22 inches.
The theater was built in 1912 and remodeled in 1931.
On Friday, Sean Thomson was dismantling the same seats he assembled two decades earlier and is hoping that the new steel seats will be more durable.
Once a week for the past 15 years, he said, he's had to fix the antique seats that were intended for movies, because frantic concerts, such as Godsmack, Marilyn Manson and Rancid, had left them with bent and broken cast-iron parts.
"If it's a real wild concert, I'm up here all day," he said.
The new seats will arrive Jan. 8 and should be installed in time for the Kansas Music Hall of Fame induction ceremony Jan. 13.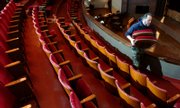 Maurice Simpson, who in 1985 helped transform the balcony in Liberty Hall from a dance floor back to its movie house feel, finds odd nostalgia in bidding farewell to the seats.
"There's a part of history going," he said.
A New Year's Eve party has temporarily stayed the dismembering of the remaining seats until Tuesday.
Then they will join their kin and eventually be stored in a warehouse for possible sale later.
"When anything new has to replace the old, it's a little sad to me," said Michael Wilson, Liberty Hall janitor. "They're like old friends."
But the aesthetic facelift in the end won't alter the real stuff that keeps Liberty Hall an active icon of Lawrence.
"It's still kicking," said bartender and sometime "door guy" Randy Fitzgerald. "What goes on here is what gives it more life than the furniture."
Copyright 2018 The Lawrence Journal-World. All rights reserved. This material may not be published, broadcast, rewritten or redistributed. We strive to uphold our values for every story published.