When the Rev. James Taylor recently received a photo from a wedding he performed over the summer, he barely recognized the man in the picture.
"I had jelly rolls," he says. "It was embarrassing."
That's because Taylor has lost 67 pounds since then. He and his wife, Cindy, have been part of Body for Life, a weight-loss program that has become a group effort for members of Lawrence Heights Christian Church, 2321 Peterson Road.
For them, spiritual and physical discipline are one in the same.
"The aspect of God being a part of it is central for us," James says. "You don't have to have God to do this thing, but it makes it a lot easier to have a higher power when you want a second piece of chocolate pie."
Body for Life is a program that encourages smaller, more frequent meals - about six a day - and workouts six times a week, alternating between cardio and strength training.
The Taylors - he's 48, she's 42 - also joined the Body for Life Challenge, a 12-week competition over the summer. Contestants compete both on statistics such as weight loss and blood pressure, and their own personal essays about the experience. Twelve winners will receive prize packages worth $50,000 each.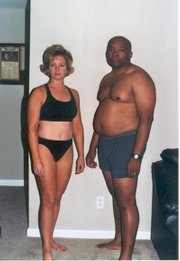 James, who was diagnosed with diabetes in 2003, was able to get off all five medications he was taking. He also went from a waist size of 42 to a 34.
The couple is helping pay for a cruise with the $5,898 they'll save this year by not buying the medications.
"The reality is, if I'd know it would do so much for my health, I would have done it much sooner," James says.
Cindy, meanwhile, lost 23 pounds.
"Mainly for me, it's feeling good about myself," the Deerfield School fifth-grade teacher says. "I've always exercised, even if it was minimal at times through the years. Sometimes, I didn't want to buy clothes because I was afraid of what sizes I'd need to buy."
Inspiring others
The couple's success quickly became a trend at their church.
Now, they have about 35 church members involved in the program.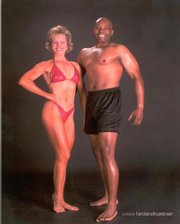 One of those is Patty McGuire, who also serves as the church secretary. She meets weekly with four other women who exercise together and share devotions.
"We encourage each other," McGuire says. "We ask what we ate that day, or what their challenge is that day."
For her group of women, God is central to the weight-loss plan. They have a devotion book meant for Christian dieters.
"Each prayer devotion is a little bit different, or hits on a different aspect of dieting," McGuire says.
Multitasking with God
Of course, prayer is an essential part of the Taylors' fitness program as well.
James rides his exercise bike in the morning as he prays and reads the Bible.
"We really prayed about what we wanted to do, making this a lifestyle," he says.
Cindy adds: "We take to heart the scripture about the body being a temple."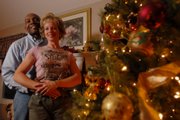 Both say it's been easier to eat better and work out more with an accountability partner. One of the biggest adjustments has been portion control - when they eat out, they usually split an entree, or they ask for to-go boxes when their dinners arrive and save half of them for leftovers.
They also hung photos they took of themselves before they started with Body for Life on their refrigerator.
"We had to see our photos before we opened it," James says.
Both James and Cindy say they think their newfound program will be a long-lasting way of life in the future. And they're hoping more people in their church - and elsewhere - get involved, too.
"We joke," James says, "that we're going to have the fittest church in town."
Copyright 2018 The Lawrence Journal-World. All rights reserved. This material may not be published, broadcast, rewritten or redistributed. We strive to uphold our values for every story published.