Mogadishu, Somalia — Jubilant Somalis cheered as troops of the U.N.-backed interim government rolled into Mogadishu unopposed Thursday, putting an end to six months of domination of the capital by a radical Islamic movement.
Ethiopian soldiers stopped on the outskirts of town, after providing much of the military might in the offensive that shattered what had seemed an unbeatable Islamic militia. Islamic fighters fled south, vowing to continue the battle.
"We are in Mogadishu," Prime Minister Mohamed Ali Gedi declared after meeting with local clan leaders to discuss the peaceful handover of the city.
Despite the celebrations in the streets, worries about the future were widespread in a country that hasn't had an effective national government since clan warlords toppled a longtime dictator 15 years ago.
Many in overwhelmingly Muslim Somalia are suspicious of the transitional government's reliance on neighboring Ethiopia, a traditional rival with a large Christian population and one of East Africa's biggest armies. Witnesses said crowds threw rocks at Ethiopians troops on the city's northern edge.
Somalia's complex clan politics also are a big worry, having undone at least 14 attempts to install a central government in this violent, anarchic nation.
Gedi's government, set up in 2004 with U.N. backing, is riddled with clan rivalries, most notably between the young prime minister and elderly president.
"The future of Somalia is very bleak and Somalis will share the same fate with Iraq and Afghanistan," a Mogadishu resident, Abdullahi Mohamed Laki, told The Associated Press. "The transitional government has no broad support in the capital."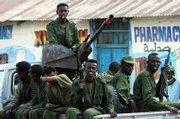 Gedi later said his government was seeking approval from the interim parliament to impose martial law across Somalia while its forces attempt to restore order. Weapons will be confiscated, he said, without giving details.
A chilling reminder of the chaos Somalia has known came as clan militiamen and criminal groups began looting almost anything they could after the Islamic forces fled. At least four people were killed in the melee, said one witness, Abdullahi Adow.
President Abdullahi Yusuf, whose shaky acting administration has spent the last year in a temporary capital, Baidoa, 150 miles west of Mogadishu, said government troops are not a threat to the city's people.
"The government is committed to solving every problem that may face Somalia through dialogue and peaceful ways," he said in a statement.
But gunfire was heard for most of the day in the city. The United Nations flew out 14 aid workers and one U.N. staff member because of deteriorating security.
Ethiopian troops, who pledged not to enter the capital, were stoned by crowds on the northern edge of the city, witnesses said. "How could we welcome an invading enemy?" asked one protester, Faiza Ali Nur.
Relations between Somalia and Ethiopia long have been strained. They fought a bloody war over their disputed border in 1977.
After launching an offensive against the Islamic forces Sunday, Ethiopian Prime Minister Meles Zenawi said his army would go home once it defeated the Islamic movement, whose fighters had extended their control over much of southern Somalia the past six months.
Copyright 2018 The Associated Press. All rights reserved. This material may not be published, broadcast, rewritten or redistributed. We strive to uphold our values for every story published.