El Paso, Texas — The cold and flu season is something Missouri probably thought it was escaping when the team left for the Sun Bowl just before Christmas.
Instead, the bug might have followed them, with more than 20 players held out of practice Tuesday and only three days to go before game day. No starters appeared to be affected on a warm day, although coach Gary Pinkel said some of his assistant coaches were hurting.
"It was unhealthy," Pinkel said. "We had coaches out; we had players out. I've never been through anything like this before."
Players said the same thing.
"I didn't really realize it until this morning when I walked into the training room and Rex (Sharp) said the list was so long he was forgetting people's names," tight end Martin Rucker said. "Then I came out here, and there was nobody at practice."
Missouri and Oregon State, the Tigers' opponent on Friday, are practicing on well appointed high school fields about a half-hour drive apart on Interstate 10. But they were together at a dinner function on Monday and were scheduled to appear together again at the Sun Bowl barbecue dinner Tuesday night.
So far, Oregon State (9-4) has no such concerns. After hearing of Missouri's woes, coach Mike Riley gave his team some sage advice.
"I told them to stay away from those guys tonight," Riley said. "That's the last thing you need at this stage. That's not good."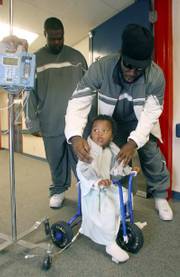 Pinkel, who is leading Missouri (8-4) to its third bowl in four seasons, appeared confident the bug would be short-term. That would be good news for wide receivers coach Andy Hill and tight ends coach Bruce Walker, both of whom had to sprint off the field for unscheduled pit stops during practice. Defensive coordinator Matt Eberflus's 14-month-old daughter spent time in the hospital Monday night receiving IV fluids for dehydration.
Pinkel said he was not ill.
"Not yet, I'm not," he said. "I'd better not."
Just in case, he took steps to avoid a similar fate, getting a flu shot and buying "everything I could to stick in my body so I wouldn't get sick."
Missouri players vow that it will not be a distraction.
"The show must go on," Rucker said. "That's what you do, and you've got to get used to it, because in the game you still may be sick and you've just got to go."
His strategy for avoiding the bug: "I don't eat anybody's eggs but my mom's," Rucker said. "Whenever you walk up to somebody, you say, 'Are you sick?' If they say yes, then you walk away."
Quarterback Chase Daniel, who had been unaffected, said that despite the situation Missouri seems to be peaking for the game.
"Overall, we've had two of the best practices of the year, in my mind," Daniel said. "So we just need to keep going, fight through the sickness and hopefully get better by game time."
"Honestly, as far as preparation for the game, it has no impact at all," Pinkel said. "My point is, we're going to survive this."
Copyright 2018 The Associated Press. All rights reserved. This material may not be published, broadcast, rewritten or redistributed. We strive to uphold our values for every story published.