Detroit — Central Michigan scored on its first two drives and added another touchdown early in the second half.
That was more than enough.
Ontario Sneed scored twice early, and Doug Kress returned an interception for a touchdown on the opening possession of the second half Tuesday night, helping the Chippewas beat Middle Tennessee State, 31-14, in the Motor City Bowl for their first Division I-A bowl victory.
"You don't always win games in the fourth quarter," Central Michigan interim coach Jeff Quinn said. "You can win in the first quarter."
Quinn led the Chippewas (10-4) just three weeks after Brian Kelly was wooed away by the Cincinnati Bearcats, then sidestepped questions about whether he improved his chances of having the interim tag dropped from his title.
"Certainly, they made a statement, and it's great to know they followed my lead," he said. "But it's really about them. They didn't win this game for Jeff Quinn."
Central Michigan lost the 1994 Las Vegas and 1990 California Raisin bowls.
The Blue Raiders (7-6) played in a Division I-A bowl for the first time in their eighth season at college football's highest level.
"What Middle Tennessee did today, you can't put a price tag on it," first-year coach Rick Stockstill said. "It will help us short-term and long-term, and I'll forever be indebted to these guys."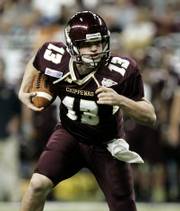 Central Michigan quarterback Dan LeFevour, who had a TD pass and ran for a score, was the MVP and defensive end Dan Bazuin won the lineman of the game award.
Sneed's 1-yard run and 29-yard reception gave the Chippewas a 14-0 lead with 5:53 left in the first quarter.
"You always want to set the tempo early in the game," Sneed said. "Their defense had trouble matching up with us the way we were running and passing the ball."
Stockstill agreed, crediting the Chippewas' offensive line.
"We had a hard time slowing them down in the beginning," he said.
Kress' 56-yard return put the Mid-American Conference champions ahead by three TDs early in the third.
"That hurt," Middle Tennessee State quarterback Clint Marks said.
The Blue Raiders held Central Michigan to minus-6 yards on its first two drives in the second half, then DeMarco McNair's 6-yard run made it 28-14 early in the fourth quarter.
Central Michigan botched a field goal attempt on the ensuing possession, giving the Sun Belt Conference co-champions hope until McNair was stuffed at the line on a fourth-and-1 from their 29 with 5 1/2 minutes left.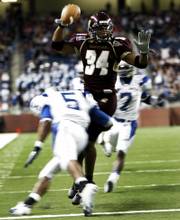 That stop set up Rick Albreski's 43-yard field goal to make it 31-14.
"We had our chances and we fought till the end," Stockstill said. "As a coach, that's all you can ask."
The Chippewas kept Middle Tennessee State on its heels with a balanced offense.
LeFevour threw for 162 yards and a score and ran for 69 yards and a TD. Sneed ran for 48 yards and caught six passes for another 48 yards.
Marks was 25-of-37 for 251 yards with two interceptions. Desmond Gee had nine receptions for 63 yards and returned a punt for 39 yards to set up the Blue Raiders' final score.
Bazuin, an NFL prospect, had a scare with a knee injury in the first half, but returned after halftime. Bazuin's pressure on Marks forced an early and errant throw, helping Kress make an interception that he returned easily for a score.
He finished with eight tackles, including two sacks, broke up a pass and hurried Marks several times.
"We were having a hard time blocking 93," Stockstill said.
The 10th Motor City Bowl, featuring a team from Michigan for the first time, drew a record crowd of 54,113 at the home of the NFL's Detroit Lions.
"People laughed at us when we started this bowl," Motor City Bowl CEO George Perles said. "I don't think people can do that anymore."
Copyright 2018 The Associated Press. All rights reserved. This material may not be published, broadcast, rewritten or redistributed. We strive to uphold our values for every story published.