-->
Whether he threw too low to his receivers, misfired on short passes to his running backs or tossed an interception for the fifth consecutive game, quarterback Trent Green last week barely resembled the Pro Bowl player the Kansas City Chiefs have come to revere.
Such performances have been the case for much of the season. After throwing for more than 4,000 yards in the last three years, Green has amassed 1,161 yards in his seven starts. And for the first time since 2001, he has more interceptions (seven) than touchdowns (six.)
"Yeah, he doesn't have the stats he had last year. But how can he? He missed a lot of games," coach Herm Edwards said during his Tuesday afternoon news conference. "I don't think we need to get into a panic after one season of a guy basically getting knocked out for half of the year and then having to come back and play."
Indeed, the 13-year-veteran's slippage in play may have something to do with the brutal concussion he endured Sept. 10, which knocked him unconscious and forced him to miss eight weeks of action. Perhaps Green's subpar performances are due to the rust of being away from the game or becoming gun shy when pass rushers approach.
His understudy, Damon Huard, shined in his absence, posting the NFL's second best passer rating of 97.6 while going 5-3 as a starter. Despite those statistics, Edwards confirmed Green would serve as the starting quarterback in 2007.
"Yeah," he said. "Why wouldn't he be?"
With several quarterback-needy teams and a bloated 2007 salary cap, Huard, an unrestricted free agent at season's end, may sign with another team. A reporter asked Edwards about that scenario.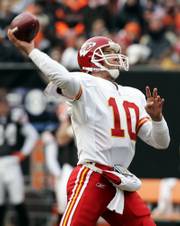 "I don't think it's fair to have to answer those questions because I don't know," he said. "I really don't, truly. That's what the offseason is for."
Whether or not Huard sports an arrowhead on his helmet next season, Edwards expressed confidence in his quarterback position now with 36-year-old Green at the helm and in the future with Brodie Croyle, a third-round selection out of Alabama in last year's draft.
"It would be a concern if you didn't have a young guy in the wings," he said. "But that's why we went out and drafted Brodie Croyle."
Insiders consider Croyle a strong-armed prospect despite his struggles in his lone NFL appearance - a 3-for-7, 23-yard, two-interception, mop-up-duty performance during the Chiefs' 45-7 loss to the Pittsburgh Steelers. Facing the defending Super Bowl champions is a difficult task for a rookie's first game.
Green has gone against similarly stout defenses, including the Raiders, Denver Broncos, Baltimore Ravens and San Diego Chargers. He posted his best numbers (24-of-32 for 297 yards, four touchdowns and one interception) against the Cleveland Browns, the 31st-ranked defense in the NFL. Edwards said those strong units have contributed to his quarterback's ugly numbers.
"He's played some pretty good defenses the last couple of weeks," Edwards said. "That doesn't help you. They can make you look bad at times."
The offense may not win any beauty contests Sunday either. Led by defensive tackles John Henderson and Marcus Stroud, the Jacksonville Jaguars (8-7) own the NFL's No.2-ranked defense and allow a mere 15.7 points per game.
"You don't score a lot of points on these guys," Edwards said. "It's probably the same scenario as (Oakland) - a very good defense and very strong up front."
Copyright 2018 The Lawrence Journal-World. All rights reserved. This material may not be published, broadcast, rewritten or redistributed. We strive to uphold our values for every story published.