Javier de Palacios will be wearing new red underwear on Sunday to ring in the new year. That's the way it's done in his home country of Bolivia.
"If you want to travel this new year, you need to pack a tiny suitcase - you can purchase them at any market there - with play money and walk around the block with it," says de Palacios, a senior at Kansas University. "We also eat 12 grapes at midnight, one for each month. And before every grape we make a wish we want to have come true for that month."
If you've grown a bit bored with your own traditions for ringing in the new year - perhaps simply popping open a bottle of champagne at midnight and smooching whoever's nearby - maybe you should try out some New Year's traditions from around the world.
Here is a sampling of what people in other countries do, as provided by Web sites from various nations:
¢ Argentina - Many people go swimming on New Year's Day, since it's summer in the Southern Hemisphere. That might not work well in Lawrence, unless you can find an indoor pool.
¢ Brazil - People wear white clothes for good luck. They also jump over seven waves in the ocean and throw flowers into the water to make wishes.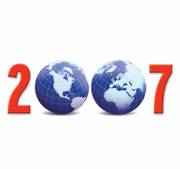 ¢ Colombia - Residents burn a doll called Mr. Old Year, and they sometimes put items inside him that bring bad luck or bring up bad memories.
¢ Ecuador - People burn masks to drive away bad luck for the upcoming year.
¢ Denmark - People throw old plates at their friends' houses, believing that broken china means more friends.
¢ England - The first person at the door for the new year is thought to bring either good or bad luck to the house.
¢ Italy - Many Italians eat lasagna on New Year's Day for good luck.
¢ Japan - People eat long noodles, to bring luck for having a long life.
¢ Korea - Some Koreans believe sleeping on New Year's Eve is bad luck.
¢ Venezuela - People wear yellow underwear for good luck. They also write letters with their New Year's wishes and burn them, also for good luck.
International flair
Recipes for several foods considered traditional for New Year's around the world: Olliebollen (Dutch doughnuts) 1 envelope dry yeast 3 tablespoons sugar 1 cup warm water, divided 2 eggs, at room temperature 1/2 teaspoon vanilla 1 teaspoon salt 4 cups all-purpose flour 3 cups fruit (diced fresh apples, raisins or dried currants) Oil for frying Confectioners' sugar for dusting Pour 1/2 cup warm water, about 85 degrees to 115 degrees, into the bowl of a large food processor. Sprinkle the yeast and sugar over the water and mix at low speed. Let stand for five minutes. Slowly mix in remaining water, eggs, vanilla and salt. Slowly add flour a cup at a time. Mix on high for about a minute or two. The dough should turn into a ball and roll around the processor. If the dough does not ball up because it's too dry, add water 1 tablespoon at a time until it does. If your mixture is more like a batter, add flour 1 tablespoon at a time. Mix in fruit. Remove from food processor. Place in an oiled bowl, cover with a clean kitchen towel and let rise until doubled, about 1 1/2 hours. Heat about 2 inches of oil in a large skillet. Punch down dough. Roll the dough into small balls, about 1/2 to 2 inches in diameter. Drop dough balls into hot oil, frying until golden brown, turning as needed. Drain on paper towels and dust with confectioner's sugar. Serve hot. Source: www.fabulousfoods.com Shanghai fried noodles (Japanese) 1 pound fresh Shanghai noodles, or Japanese udon noodles 2 tablespoons Chinese rice wine 1 tablespoon hoisin sauce 1 teaspoon cornstarch 12 ounces flank steak, sliced into 1/4-inch strips 3 tablespoons dark soy sauce 1 tablespoon soy sauce 1/2 teaspoon sugar 2 tablespoons peanut oil 1/2 teaspoon minced garlic 1/2 teaspoon minced ginger 1/2 teaspoon minced green onions, plus 1 cup cut-on-a-bias green onions 3 cups julienned Napa cabbage 1/2 teaspoon minced jalapeño In a large pot of boiling salted water, cook the noodles until al dente, about 8 minutes. Rinse under cold running water and drain well. Set aside. In a small bowl, combine the rice wine, hoisin and cornstarch. Add the beef, toss to coat, and marinate for 15 minutes. In another bowl, combine the dark soy sauce, soy sauce and sugar, and stir well to dissolve the sugar. Place a wok over high heat and add 1 tablespoon of the peanut oil, swirling to coat. When hot, add the garlic, ginger and minced green onions, and cook, stirring quickly, for 10 seconds. Add the beef and stir-fry for 3 minutes. Add the cabbage and stir-fry for 3 minutes. Transfer to a platter and return the wok to high heat. Swirl the remaining tablespoon of peanut oil in the wok and, once hot, add the noodles to the pan and stir-fry for 1 minute. Add the sliced green onions and jalapeño and sauce and toss all for 1 minute. Add the beef and stir to heat through. Serve immediately. Source: www.foodnetwork.com. Black-eyed peas with stewed tomatoes (United States) 1 pound dried black-eyed peas 1 (28-ounce) can whole, peeled tomatoes 1/4 cup sugar 2 tablespoons extra-virgin olive oil 1 medium onion, chopped 2 garlic cloves, chopped 1 ham hock 2 quarts chicken stock or water Kosher salt and freshly ground black pepper Put the peas in a pot and cover with water by 2 inches. Bring to a boil over high heat, reduce heat and simmer for 2 minutes. Remove from the heat, cover and let them soak for 1 hour. (Or cover the with cold water and let them soak overnight.) Meanwhile, drain the tomatoes and reserve the liquid. Hand-crush the tomatoes in a saucepan and add the sugar and 1/2 cup of the liquid. Cook over medium low heat, being careful not to let it burn, until the liquid has evaporated and the tomatoes are thick, about 30 minutes. In a large pot over medium heat, add the olive oil, onion, garlic and ham hock. Cook until the onions are soft, about 5 minutes. Add the soaked peas and the stock and cook, covered, until the peas are tender, about 20 minutes. Add some water if you need more liquid. Remove the ham hock and fold in the tomato mixture. Taste, season with salt and pepper, and serve. Source: www.foodnetwork.com Colorful cod and veggie pan bake (Denmark) 1 pound cod (or other white fish) fillets 1 small onion, chopped 1 medium carrot 1 clove garlic, minced 2 tablespoons olive oil 1 cup frozen hash brown potatoes 1 cup broccoli florets (fresh or frozen) 1/2 cup dry white wine 1/2 cup chicken bouillon 1/2 cup half and half cream (optional) 1 tablespoon horseradish 1 teaspoon salt 2 sprigs fresh dill weed, chopped 1/2 teaspoon ground white pepper Cut fish fillets into 2-inch chunks. In oven-proof skillet or au gratin dish, saute onion, carrot and garlic in hot olive oil until vegetables are soft, about 5 minutes. Add frozen potatoes and broccoli, and cook about 5 minutes. Stir in white wine, bouillon, half and half (if desired) and horseradish. Add fish and mix gently. Cover and bake in a preheated 450-degree oven for 15 to 20 minutes. Season with salt, pepper and dill weed. Source: www.cooks.com
Copyright 2018 The Lawrence Journal-World. All rights reserved. This material may not be published, broadcast, rewritten or redistributed. We strive to uphold our values for every story published.