Lagos, Nigeria — A gasoline pipeline ruptured by thieves exploded into a blazing inferno Tuesday as scavengers collected the fuel in a poor neighborhood, killing at least 260 people in the latest oil-industry disaster to strike Africa's biggest petroleum producer.
Braving a towering pillar of fire and a cloud of acrid black smoke, thousands of people in Lagos' Abule Egba neighborhood surged around rescue workers carrying away charred bodies, hoping to catch a glimpse of missing relatives.
"My brother, my brother," wept 19-year-old Suboke Adebayo as an unidentified male corpse was loaded into an ambulance. Adebayo, a student, had spent hours trying unsuccessfully to contact her sibling: "I've been calling him since this morning, but I can only hear a holding tone."
A woman in a yellow T-shirt sobbed uncontrollably, slapping herself on the face and clawing her own arms in grief over the devastation of bodies and gutted cars spread around the pipeline.
A senior official for the Nigerian Red Cross, Ige Oladimeji, said his workers counted 260 dead by nightfall and took 60 injured people to hospitals. "We are still counting (dead), but there will not be hundreds more," he said.
Residents said a gang of thieves had been illegally tapping the pipeline for months, carting away gasoline in tankers for resale.
Tapping is common in Nigeria, where many of the 130 million people live in woeful poverty amid widespread graft that makes a handful wealthy in this major oil exporter. A single pilfered can of gasoline sold on the black market can earn two weeks of wages for a poor Nigerian.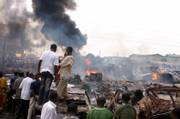 But tapping also brings frequent accidents. Earlier this year, 150 people died in a similar explosion in Lagos, and a 1998 pipeline fire killed 1,500 in southern Nigeria.
Tuesday's blast, the worst in years, came after thieves opened the conduit during the night but left without fully sealing it, prompting hundreds of nearby residents to rush to collect spurting gasoline with cans, buckets and even plastic bags, witnesses said.
It was unclear what ignited the fuel just after dawn.
"There were mothers there, little children," said Emmanuel Unokhua, an engineer who lives nearby. "I was begging them to go back."
Unokhua said people had splashed fuel on him seeking to chase him away and also doused a few police officers who tried unsuccessfully to control the crowd.
"They were not arresting anyone because they had no vehicle to put them in," Unokhua said bitterly. "There are plenty of vehicles for the dead bodies now."
Copyright 2018 The Associated Press. All rights reserved. This material may not be published, broadcast, rewritten or redistributed. We strive to uphold our values for every story published.