Sometimes, you have to pretend to be someone else to remember who you are.
It was that way for Larry Kline. Christmas depended on it.
For 35 years, almost exactly half his life, Kline has been Santa Claus. The hat, the beard, the coat, the pants, the belt, the boots, the smile. He put them all on both for children at schools and stores and for senior citizens in care homes.
He was everything a Santa is supposed to be, leading carol sing-alongs and handing out candy. He would tap children on the shoulder three times, meaning, "I love you," and tell them to do the same to their parents.
At 6-foot-4, with a bellowing laugh, Kline was a Santa who commanded attention for the 20 or more appearances he'd make each year.
Then, a strange thing happened. Kline became a patient in one of those care homes he'd always visited as Santa.
He had a stroke in September. It was a massive one, and it paralyzed the left half of his body. His wife, Tanya, caught it early, which probably saved his life.
Things were tense early on at the hospital in Kansas City. One evening, the doctors told Tanya that her husband wouldn't make it through the night.
But he did. The doctors couldn't really explain it.
He kept getting better, day by day. Eventually, he moved from the hospital to a rehab facility. Then, in mid-October, he moved back to Lawrence, to Brandon Woods Retirement Community.
All the while, Santa was on his mind. Every time he looked in the mirror, he saw the white beard he started growing out in August, in hopes of being Santa with a real beard for the first time this year.
Eventually, he figured it made more sense to focus on his rehab - learning to talk and walk again - than it did dreaming about Santa. He had an aide at Brandon Woods shave the beard.
But Christmas was coming. He couldn't stop thinking about what it felt like to be Santa, the way people smiled at him with that red outfit on. It wouldn't seem like Christmas without that.
Photo Gallery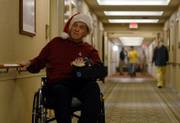 Larry Kline
So he decided he'd still be Santa, even if he had to have help getting into his suit and do the whole thing from a wheelchair.
On a recent weekend, four different times, folks at Brandon Woods gathered in the dining area, and Kline was Santa again.
He couldn't walk around the room, shaking hands like he used to do. But it felt like old times. He could still get the older folks going on the old standards, like "I Saw Mommy Kissing Santa Claus."
"I wanted to bring back my past," Kline says. "Sometimes you have to get your mind back that way."
He finished each session like he usually does, with a testimony to his faith: "Let us always remember why we celebrate Christmas. It's not Santa Claus. It's not the giving of gifts. It's Jesus Christ."
"I was back in the mood again," he says. "This made me appreciate it more. It's good to make people happy. Santa always brings a smile."
In some ways, having that Santa attitude - even when the suit is off - may have helped Kline to the point he is now. He can carry on a conversation, and he's gradually getting back on his feet.
"People didn't know at the time of the stroke how things were going to be turning out," says Donna Bell, a friend who also works at Brandon Woods. "But we didn't count on Larry's optimism."
Kline's goal is to walk out of the facility by the end of January and get back to his slate of activities - organizing regional events for the Methodist church and for the Greater Lawrence Christian Men's Association, planning the programs for his Optimist club and delivering food to area food banks.
And he wants to be back at Brandon Woods next year, only this time as a Santa not in a wheelchair.
"I love it," Kline says. "It touches people. Once I get that suit on, I really open up. I try to be the real thing. It has to come from the heart. It's not fake."
And in that sense, maybe Kline didn't have to put on that suit to remember who he was before the stroke.
Maybe, in some way, he was Santa all along.
Copyright 2018 The Lawrence Journal-World. All rights reserved. This material may not be published, broadcast, rewritten or redistributed. We strive to uphold our values for every story published.