Photo Gallery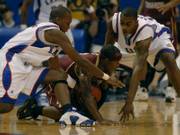 KU vs Boston College
One school of thought for a basketball coach is sometimes you just have to realize a star player is going to get his, and you work around it.
The approach Kansas University took to Boston College junior forward Sean Williams was a hybrid of sorts. And whatever it was, it worked to the Jayhawks' favor in Saturday's 84-66 victory at Allen Fieldhouse.
"Yeah, coach was saying he was going to block shots, and we knew that," KU sophomore Julian Wright said. "This was a great game in terms of us playing against a really athletic (power forward). We don't have guys on our team that can in practice get us used to playing like that every day."
Saying Williams got his might be selling his performance short. The 6-foot-10 big man came into the game averaging 11.9 points, 5.7 rebounds and an NCAA-best 5.4 blocks per game. All three averages were surpassed in his final stat line: 19 points, 15 boards and seven swats. Boston College's other star, senior Jared Dudley, rendered a silent 14 points and eight rebounds.
But KU had the last laugh, making those numbers all but moot. The Jayhawks showed that quantity is better than quality, outscoring Boston College in the paint, 42-28.
"We were fortunate enough to be able to bring enough big guys in and make him earn his shots and not give him angles to score," Wright said of Williams.
Audio Clips
2006-07 Dec. 23 KU-BC Hoops
The collaboration of Wright, Sasha Kaun, Darrell Arthur and Darnell Jackson totaled 39 points and 29 rebounds. The foursome also combined to pile up 14 personal fouls, which kept Williams and any other Eagle to enter the paint from getting into much of a rhythm.
Plus, with the four KU bigs consistently going hard at Williams, it put him in foul trouble late and helped keep Boston College from getting within reach.
"We just wanted to get him in foul trouble to get him out of the game," Arthur said of Williams, who played 36 of the game's 40 minutes.
The Jayhawk guards also were able to penetrate the paint by drawing Boston College's beast on the blocks away from his favorite place on the floor. In short, KU was able to keep Williams from dominating merely by doing its best to weather the storm.
"There's been a lot of great athletes play in this building, but I don't know if we've played against many guys that can block or alter shots like him with such a presence," KU coach Bill Self said of Williams. "We just kind of ran some ball screens, and that did get him away from the basket some."
Copyright 2018 The Lawrence Journal-World. All rights reserved. This material may not be published, broadcast, rewritten or redistributed. We strive to uphold our values for every story published.