LUBBOCK, TEX. — Bob Knight always will be known for his temper and guile, for throwing a chair and winning national championships. Now he's got the ultimate vindication for doing things his way: Nobody has ever won more Division I men's basketball games.
Love or loathe him and his tactics, Knight tied Dean Smith's mark of 879 victories Saturday when Texas Tech beat Bucknell, 72-60.
"I'm pleased that we're both right where we are," Knight said.
Knight has long insisted the record is a reflection on others, not himself. He stuck to that stance to the end: There was no announcement in the arena and four of his five assistants, including son and successor-to-be Pat, walked by him as if nothing had happened. The fifth assistant merely patted Knight lightly on the back as he went past.
"I'd like to have hit 62 home runs. Then I think I would've accomplished something," Knight said. "I hope those kids that played (for me) at Army back in '65, I hope some of them watched the game today and can look at themselves or their grandchildren and can say, 'I was there when that son of a bitch started."'
Knight's first chance to own the top spot all by his sweater-wearing self comes Thursday night at home against UNLV. Two more home games follow, giving him a good chance of hitting 880 in front of the community that's embraced him since he arrived in 2001.
In his 41st year of coaching, Knight has a record of 879-353 with three national titles. The first was in 1976 with an Indiana team that went 32-0; no men's team has been perfect since.
Smith went 879-254 over 36 years, all at North Carolina. Knight and Smith are the only men to have won national championships as players and coaches. They share the record for coaching in the most NCAA tournaments (27).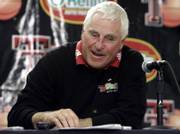 Tennessee women's coach Pat Summitt is the overall leader in major-college victories with 924 going into Saturday.
Knight and Smith spoke a few days ago and reminisced about when Smith passed Adolph Rupp for the top spot in 1997. Although they are friends, their vastly different styles were once summed up by Michael Jordan, who played for Smith at North Carolina and for Knight on the 1984 U.S. Olympic team.
"He said that both Dean and I have always tried to reach the same end, and that we have different ways of doing it. Coach Smith is the master of the four-corner offense and Coach Knight is master of the four-letter word. That's a verbatim quote from Jordan," Knight said.
There was one hint that Knight understands the significance of this one: His son, Tim, made sure he got the game ball at the end.
"It's a big honor to be on this team," said Jarrius Jackson, who scored 18 points.
"We're part of history," added teammate Martin Zeno, who also scored 18. "We left our footprint. That's a good accomplishment for each and every player on the team."
Playing before a season-high 11,561 fans, and without third-leading scorer Charlie Burgess (groin), Tech (10-3) led for all but a couple possessions in the opening minutes. Bucknell got within 42-39 early in the second half, but missed 13 straight shots starting with a three-pointer that could have tied it. The Red Raiders capitalized with a 17-0 run and it wasn't close again.
Copyright 2018 The Associated Press. All rights reserved. This material may not be published, broadcast, rewritten or redistributed. We strive to uphold our values for every story published.