On an afternoon the Kansas University basketball team showcased its defensive versatility and depth at the expense of Boston College, there was no question who led the Jayhawks.
Mario Chalmers, the 6-foot-1 sophomore from Anchorage, Alaska, seemed so much taller than that and so much older than the freshman who looked overmatched and confused in a humbling trip to Maui against the University of Arizona last year.
Chalmers didn't resemble a point guard back then. Now, he does and shares those duties with Russell Robinson.
Chalmers did a little bit of everything in leading KU to an 84-66 pasting of a rattled Boston College team that normally isn't easy to shake up. He penetrated and dished. He made three of six three-points shots. As usual, he got his quick hands on the basketball repeatedly. He didn't have those defensive lapses that sometimes creep into his game, when he gets a little lazy with his feet.
He played conductor to the Allen Fieldhouse orchestra of 16,300 that had not been as loud this season as it was Saturday afternoon. He stretched his arms and pumped them upward, asking for more volume.
Most significantly, he took it to the rack with a remarkable ability to turn his back in mid-air to protect the ball from would-be shot-blockers, even ones more than a half-foot taller.
"I think it's just hard to stop when a player's going full speed and he uses his body, and I think all of our guards do a good job of that," Chalmers said. "They had Sean Williams (seven blocks) trying to block shots. All you had to do was give him a fake or put your body into him and he wasn't able to get to the layups."
Photo Gallery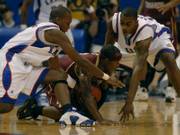 KU vs Boston College
Chalmers did such a good job of it that, at day's end, he had 22 points, five steals and four assists. He entered the game averaging eight field-goal attempts. In this one, he made nine of 16.
When teammates around him appeared to lose interest after KU built a 26-point lead and let it dwindle to 13 points, Chalmers surfaced to inflate the lead again.
Chalmers is something of an enigma in this sense: He can score in so many ways - hard drives, three-pointers, tear-drops, pull-up jumpers - yet, he doesn't shoot often enough.
"Coach is going to want me to, so I've got to do what coach wants me to do," Chalmers said of looking to shoot more.
If last season were an indicator of what could happen this season, Chalmers' long-range accuracy should be better than the .356 he took into the game. As a freshman, Chalmers had a .234 rate after 15 games, a .457 mark the rest of the way.
Audio Clips
2006-07 Dec. 23 KU-BC Hoops
"At the beginning of this season, I had to make some adjustments to my shot, and I'm just now starting to get used to it," Chalmers said. "It was just holding my form longer. I used to do that last year, but I kind of got away from it early, and the coaches worked with me on getting it back."
It wasn't the improved shot that put a big smile on the coach's face.
"He was more aggressive and got the ball where it needed to go," Bill Self said. "He played terrific. I thought it was the best game he's played to date this year. It wasn't that he did anything spectacular, he just put himself in position to make plays, and he's a good playmaker."
Having the discipline not to go for the spectacular play almost qualifies as spectacular in itself.
Copyright 2018 The Lawrence Journal-World. All rights reserved. This material may not be published, broadcast, rewritten or redistributed. We strive to uphold our values for every story published.