Photo Gallery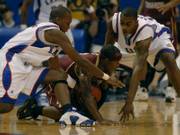 KU vs Boston College
Boston College hadn't even stepped on the court at Allen Fieldhouse to face No. 11 Kansas University before the bad breaks hit.
John Oates - who had started all nine games this season - was scratched from the lineup right before tipoff due to an ankle injury.
Instead, Akida McLain - coming off a nine-game suspension for violating team policy - made his first start of the season. His debut was short-lived, playing just four minutes before joining Oates at the end of the bench after suffering a severe ankle sprain.
McLain is expected to be sidelined for an extended period, according to Boston College coach Al Skinner.
"There was no question that created some problems for us," Skinner said after Saturday's 84-66 loss to KU. "Obviously, we count on John, but it was difficult to have Akida come back and not be able to : give us significant minutes. He comes in and makes a jump shot for us, (then) he gets a tip. We needed some of that : and not to have it, hurt us."
But the Eagles' lack of bodies didn't really matter much with the way the Jayhawks were playing defense, scoring 31 points off turnovers - 23 in the first half.
"We didn't handle the ball as well as we should have, and, you know, you just can't do that," Skinner said. "There's just no way you're going to win any ball games by giving up that many points and handling the ball as poorly as we did."
Audio Clips
2006-07 Dec. 23 KU-BC Hoops
Without the extra bodies down low, the Eagles (7-3) relied on Sean Williams, who finished with career highs in points (19) and rebounds (15). Williams, the NCAA leader in blocked shots, had seven blocked shots and was three blocks away from becoming just the second player to ever record a triple-double against KU.
Magic Johnson, while at Michigan State, was the only one to achieve that feat.
"I did miss my other big men out there," said Williams, who played all but four minutes. "They (Kansas) had four big men they were rotating in. I was just trying to go hard, and the refs were calling everything. It was a real physical game : it was real physical. Shamari (Spears) and (Jared) Dudley : helped out a lot."
Dudley, Boston College's leading scorer, was held below his season average of 19 points. He had his second-worst scoring game of the season with 14.
"They were the aggressor today," Dudley said. "Definitely, the better team came out - well coached, well prepared and executed.
"The (Kansas) guards swiped down a lot : everybody crashed on the offensive rebounds, and we just didn't rebound the ball well."
The Eagles are 1-2 on the road and will play three home games before traveling to North Carolina State on Jan. 6.
"We've just got to execute a lot better. This is a learning experience," Skinner said.
Copyright 2018 The Lawrence Journal-World. All rights reserved. This material may not be published, broadcast, rewritten or redistributed. We strive to uphold our values for every story published.