New York — Three months into the Reign of Rosie, "The View" has become must-see TV. But is it the type of viewing that series creator Barbara Walters was bargaining for?
Rosie O'Donnell's inclusion in the daytime chat show's cast has boosted ratings but seemingly brought along a controversy du jour, the latest this week's verbal mudfight between O'Donnell and Donald Trump.
O'Donnell said she wasn't talking about it on Thursday's show but couldn't help herself, saying she was afraid to leave home the night before "in case somebody with a comb-over came and stole" partner Kelli from her. Trump took every opportunity to hurl insults in return.
Since joining the show in September, the outspoken O'Donnell also has made waves by accusing Kelly Ripa of homophobia, mocking spoken Chinese and later apologizing, saying actions by Oprah Winfrey and pal Gayle King were "very typical of gay relationships" and saying that "radical Christianity is just as threatening as radical Islam."
"Rosie O'Donnell has wreaked havoc on the show but revitalized it and redefined it," said Tom O'Neil, senior editor of In Touch Weekly. "The show has gone from 'The View' to strong views."
Even co-host Joy Behar got into the act earlier this week when, during a discussion of how to draw more attention to Time magazine's annual person of the year, said, "you have to put like a Hitler type, like you put Donald Rumsfeld there or something."
It all makes Danny DeVito acting drunk on the air appear tame by comparison.
Walters envisioned a show with irreverent, back-porch chatter for women when she invented it a decade ago. This year's departure of current "Today" co-host Meredith Vieira, usually the moderator of the day's discussions, led Walters to seek out O'Donnell.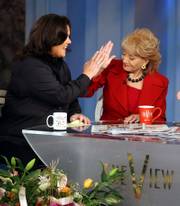 "It always had an edge to it, but not a cutting edge," said Bill Carroll, an expert in television syndication for Katz Television. "Rosie brings a cutting edge to the show."
She also brought renewed attention, rare for any program in its 10th season. The show's typical audience of 3.3 million so far this season is up 13 percent from the same period in 2005, according to Nielsen Media Research. The syndicated show is mostly broadcast on ABC, which is owned by The Walt Disney Co.
"There's an energy to the show," Carroll said. "You don't know what's going to happen and it does take advantage of the show being live. It's not 'Regis & Kelly.'"
Walters is "obviously exasperated" about how the show has become a battleground, O'Neil said, but smart enough to know it needed a jolt. Walters was on vacation Thursday and unavailable for comment, a show spokesman said. O'Donnell and show producer Bill Geddie weren't talking, he said.
O'Donnell set off after Trump on Wednesday during a discussion of his news conference on the Miss USA partying episode. She likened him to a snake oil salesman and said he'd been bankrupt several times, a claim Trump angrily disputes.
"Left the first wife, had an affair, left the second wife, had an affair. Had kids both times, but he's the moral compass for 20-year-olds in America," O'Donnell said to roars of audience laughter.
Copyright 2018 The Associated Press. All rights reserved. This material may not be published, broadcast, rewritten or redistributed. We strive to uphold our values for every story published.