Teacher and coach Ron Garvin was hearing Superintendent Randy Weseman rattle off an impressive resume Thursday afternoon during a South Junior High School assembly.
The superintendent - a former South principal - described an outstanding teacher, a mentor, a "pillar of the community" and a man of high character.
It just took Garvin a few minutes to realize Weseman was talking about him.
Garvin, who is in his 33rd year of teaching and coaching at South, was named the 2006-07 Lawrence Master Teacher on Thursday in front of his jubilant students.
"You are all a part of what South is about. I'm just a very small part of that," he said during an impromptu speech on the gym floor.
Garvin earned two degrees from Kansas University and student taught at South before working there full time. He taught math and science classes in the late '70s and early '80s. Since 1984, he has served as the school's physical education teacher.
He has also coached football for 33 years, boys basketball for 27 years, track for 14 years and high school baseball for 20 years.
As a ninth-grade football coach, his teams have a record of 173-70-10.
Those who nominated him listed his emphasis on healthy lifestyle and academic success for students.
"Mr. Garvin is one of those people that if I asked for something to be done, he usually had it done before I asked," Weseman said.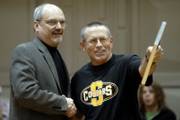 "He taught us leadership skills, how to live life, and he taught us how to be men," said Dustin Walthall, a South ninth-grader and football player.
KU football play-by-play announcer David Lawrence, South's health teacher, coached with Garvin for 17 years. Garvin spent countless and thankless hours performing maintenance on the football field to improve the experience for the players. Getting enough work out of his assistant was never a problem.
"I tried to figure out a way to get him to go home," Lawrence said.
The Lawrence public schools annually select one teacher for recognition. The educator is nominated for the Kansas Master Teacher program, sponsored by Emporia State University's Teachers College.
"I think I'm passionate about what I do. We have great kids, great parents. We have a great staff and administration," Garvin said.
Garvin's wife, Jane, was at the assembly with his daughter-in-law, Amy, and grandchildren Kenzie, 10, and Peyton, 7. Their son, Jay, could not attend. His daughter, Sara, lives in Omaha, Neb., with husband Jason and son Charlie, 2.
Garvin said he continues to look for ways to encourage students to exercise outside of school. While he has considered early retirement from teaching, for now he remains excited about working with students and in South's new building when it is completed.
Watch the 6News video report
Copyright 2018 The Lawrence Journal-World. All rights reserved. This material may not be published, broadcast, rewritten or redistributed. We strive to uphold our values for every story published.