Yelling was allowed Thursday at the Lawrence Public Library.
Evidently, it is OK to break that cardinal rule of libraries if you're celebrating a Lawrence milestone. Cheers and applause broke out about 4 p.m. as library staff members checked out the 1 millionth item of the year at the library.
The event marked the first time in the library's history that 1 million items were checked out in a single year.
"So many books. How am I going to carry all these books?" said the 4-year-old son of Fabiana Cesa, as he lugged a book bag of used books that he was given for being the lucky library patron.
Cesa, who asked that her son's name not be used, said she had no idea what was going on as they approached the circulation desk and saw people poised to take photographs.
"I know you are always looking for a story," Cesa said. "I figured it must have been a slow news day."
But she said she was happy to be part of generating some publicity for the library. Cesa, a native of Argentina, came to Lawrence about two years ago. She said the library played an important role in her assimilation into the community.
"When I first came to Lawrence, I was very happy to have the library," Cesa said. "It is a place to meet people. It is more than just a place to check out books."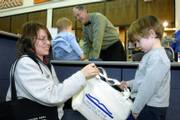 Bruce Flanders, the library's director, said the 1 million mark was a significant one. The previous high was set last year when the library checked out 933,023 items, which includes both print and nonprint materials. Flanders said the number of items checked out has been growing by about 8 percent per year since 1999.
Flanders said he thought the increase was attributable to a knowledgeable staff that attracts patrons, increased marketing efforts and an improved collection of items.
"It is really kind of a 'Field of Dreams' story for the library," Flanders said. "If you build it, they will come. If you build the collection, it will circulate."
Flanders said the staff has used additional city funding to particularly increase the library's adult fiction section. The library has made an effort to have the major award-winning novels of the past 30 years in stock, in addition to adding more international fiction and best-sellers.
The 1 millionth item, though, didn't exactly fall into any one of those categories. It was the children's book "The Insect Class."
If he had it to do over again, the boy's father, Barry Carver, might have encouraged his son to make a different selection. Carver is a published author and has a book, "Sunday Best," in the library's collection.
"I wish I would have known," Carver said.
A closer look at the Lawrence Public Library
Items checked out in 2005: 933,023 (Previous circulation record)
Number of library card holders: 79,376
Number of visitors between January and November 2006: 448,048
Number of items in the library: 317,649
Copyright 2017 The Lawrence Journal-World. All rights reserved. This material may not be published, broadcast, rewritten or redistributed. We strive to uphold our values for every story published.