Gaza City, Gaza Strip — A fierce gunbattle broke out between Hamas and Fatah militants early today in Gaza City, underscoring the fragility of a two-day-old truce that largely had ended factional violence there.
The street battle erupted when Hamas militiamen tried to free two kidnapped militants, including a senior member of the Islamic group. It died down after 20 minutes as Muslim clerics and other mediators worked to restore the cease-fire. Nobody was hurt despite the battle's intensity, health officials said.
Hamas said its fighters exchanged fire with Fatah-affiliated militants behind the abductions. The fight quickly spread, drawing in guards outside the residence of Palestinian President Mahmoud Abbas of Fatah, and Hamas militiamen guarding the home of Foreign Minister Mahmoud Zahar of Hamas Zahar. Abbas was not in Gaza at the time.
Meanwhile, Palestinians stepped up rocket attacks on Israel, including one that veered off course and hit a Gaza home, injuring a 2-year-old Palestinian boy sleeping in his bedroom, officials said.
Six other rockets landed in Israel, but nobody was hurt. The barrage threatened a separate cease-fire between Israel and the Palestinians that ended months of Israeli military activity in the Gaza Strip.
A minister in Prime Minister Ehud Olmert's Cabinet said it was time to call off the cease-fire.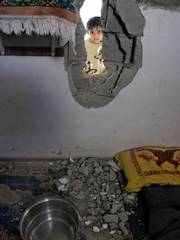 "Enough restraint," Binyamin Ben-Eliezer told Israel Radio. "Israel is many things, but a suicidal state isn't one of them."
A week of factional violence in Gaza killed 16 people and left dozens injured across Gaza before the truce took effect Tuesday night.
Hamas blamed the Thursday night kidnappings on a clan affiliated with Fatah that was trying to avenge the deaths of two of its members in an earlier round of fighting.
Hamas officials said the Fatah gunmen shot at Zahar's home.
Abbas, a moderate, has called repeatedly for an end to rocket fire, saying they only invite harsh Israeli retaliation.
In the West Bank town of Ramallah, Abbas said he hoped to have a long-awaited summit with Olmert by the end of the year.
"We always showed our willingness to hold this meeting with Olmert, and it's no secret that we hope it will take place before the end of this year," Abbas said at a news conference with the visiting Italian foreign minister, Massimo D'Alema. "There is progress in preparations for this meeting."
Copyright 2018 The Associated Press. All rights reserved. This material may not be published, broadcast, rewritten or redistributed. We strive to uphold our values for every story published.