Rome — "Let me die," wrote Piergiorgio Welby, paralyzed and confined to his bed by muscular dystrophy and unable to eat, speak or breathe on his own.
A doctor carried out his wish, disconnecting Welby's respirator - and with that move reignited the debate about the right to die in predominantly Roman Catholic Italy, where euthanasia is illegal and can be punished by up to 15 years in prison.
Welby died late Wednesday at age 60 after suffering from the degenerative disease since his teens.
Three months earlier, he had pleaded with Italy's president to be allowed to die.
"My dream : my desire, my request - which I want to put to any authority, from political to judicial ones - is today in my mind more clear and precise than ever: being able to obtain euthanasia," Welby wrote to President Giorgio Napolitano.
Dr. Mario Riccio, who disconnected the respirator, said he acted out of respect for Welby's constitutionally guaranteed right to refuse treatment. Riccio said he felt "very serene" following the decision, and did not fear legal consequences.
"In Italian hospitals, therapies are suspended all the time and this does not lead to any intervention from magistrates or to problems of conscience," said Riccio, who volunteered to remove the respirator and was not involved in Welby's medical care.
But some lawmakers called for legal action against the doctor.
Legislator Luca Volonte urged officials "to arrest those guilty of this murder, which is punished by the state's laws and which cannot remain unpunished."
A 'natural' end?
The case has highlighted an apparent contradiction in Italian law: Patients have a constitutional right to refuse treatment, but the Italian medical code requires doctors to keep them alive.
The Vatican - which maintains a strong influence on Italian politics - vehemently opposes euthanasia, insisting that life must be safeguarded from its beginning to its "natural" end.
"The debate that was started will continue, and it is clear that a country, a government : (must) take into account the great value of human life, and therefore reflect deeply on this case," Premier Romano Prodi said.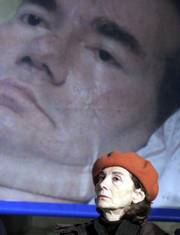 Welby was 18 when he was diagnosed with progressive muscular dystrophy. When he married, he asked his wife, Mina, not to allow him to be attached to a respirator when the time came.
In the 1980s, Welby lost the use of his legs, and in 1997, he slipped into a coma. He woke up in a hospital unable to move, with a tracheotomy tube in his throat and attached to a respirator, according to the Web site of the patient advocate group he led.
"Even God had not answered me. He had remained locked in the churches, protected in the convents, he had made some chalk statues of Madonnas cry and he had allowed the doctors to go ahead with this absurdity," Welby wrote on his blog in 2002.
In 2002, he became a member of the Luca Coscioni Association patient advocate group, opening a discussion forum on euthanasia. He became the association's president in April.
"Dying must be like falling asleep after making love, tired, tranquil with that sense of wonder that pervades everything," Welby wrote on his blog.
Last month, he published a book, "Let Me Die," in which he wrote: "I know death can never be gentle, but unfortunately I know also that life can be unlivable and unbearable."
Law's contradictions
On Saturday, a Rome judge recognized Welby's right to refuse treatment - but ruled there is no law that could force a doctor to take measures that would result in the patient's death, even if such measures are requested.
The judge urged legislators to address the contradiction, saying the decision to pull the plug "is left to the complete discretion of any doctor to whom the request is made."
Riccio contacted the organization that campaigned for Welby's right to die about two weeks ago and volunteered to disconnect the respirator, said Rocco Berardo, deputy secretary of the Luca Coscioni Association.
"I got to know Piergiorgio Welby. On Monday, we had a long talk, where he confirmed fully his will that the therapy be interrupted," Riccio said.
He said he sedated Welby intravenously Wednesday night for about 40 minutes as the respirator was disconnected and that Welby asked "to be with his loved ones" as long as possible. Welby's wife was at his bedside when he died.
Francesco Di Giovanni, an attorney for Welby, said the risk of Riccio being prosecuted was slim because Rome prosecutors had in recent days said Welby's appeal to force his doctor to remove his respirator and sedate him had merit.
Riccio was briefly questioned by police and was not accused of anything, Berardo said.
"We cannot call this murder," said Grazia Volo, a penal lawyer. "I think the doctor verified that (Welby) had exhausted his chances to live."
Ignazio La Russa, a member of the right-wing National Alliance, accused the Radical Party, which has supported Welby's right-to-die campaign, of exploiting a personal tragedy for political ends.
"Even if what the Radicals are doing were useful, it would still remain a barbaric exploitation," La Russa said.
Welby's sister, Carla, appealed to politicians to come up with legislation that would clarify the law.
"I would like our politicians to look around: life changes, situations change, tragedies are different today with these machines that keep people alive," she said. "Do find common ground."
Copyright 2018 The Associated Press. All rights reserved. This material may not be published, broadcast, rewritten or redistributed. We strive to uphold our values for every story published.